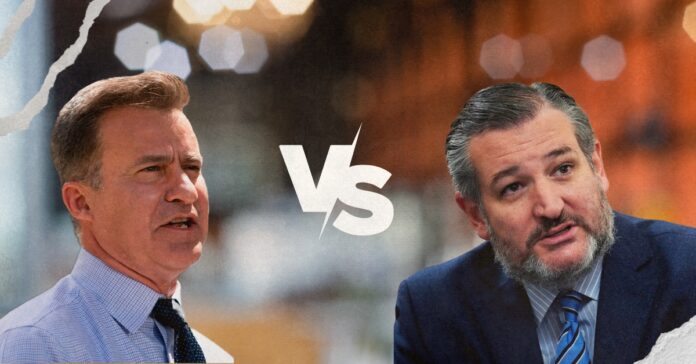 It has been speculated by sources that U.S. Senator Ted Cruz may face competition in the upcoming 2024 elections. State Senator Roland Gutierrez is reportedly preparing to go head-to-head with Cruz in what could be a highly contested race.

While Gutierrez has not made an official announcement yet, sources close to him reveal that he is "very likely" to enter the race, and there is "no question he is seriously looking at it." Speculation surrounding Gutierrez's potential candidacy was first reported by Gilbert Garcia, a columnist for the San Antonio Express-News, who stated that Gutierrez is "nearly certain" to run.

Gutierrez has been serving in the Texas Senate since 2021, having previously spent over a decade in the House. Meanwhile, Cruz has held the U.S. Senate seat since 2013.

Gutierrez's relentless dedication to addressing the Uvalde massacre, which claimed the lives of 19 children and two teachers within his district, has made him a prominent figure in the fight for gun reform during the ongoing legislative session. Despite resistance from GOP leaders on new gun restrictions, Gutierrez has held news conferences with victims' families and engaged in debates with Lt. Gov. Dan Patrick on the Senate floor.
According to one source, the tragic incident "changed his service completely."

"This has really focused him on those who have been left behind by their government in the most egregious way."

On Monday, Gutierrez achieved a significant victory when a House committee voted 8-5 to pass legislation that would increase the minimum age for purchasing certain semi-automatic rifles from 18 to 21.

According to the San Antonio Express-News, if Gutierrez proceeds with his preliminary intention to confront Cruz, his campaign will center around dismantling the alleged GOP-fueled notion of the "Texas Miracle."

His argument will revolve around the claim that the Republican dominance in Texas has fostered an excessive preoccupation with culture-war rhetoric, leading to a disregard for critical concerns such as fundamental infrastructure, education, healthcare, gun safety, and the reliability of the electrical grid – Gutierrez perceives Cruz as a symbol of this Republican mindset prevalent in Texas.

Both Gutierrez and Cruz's campaign has yet to respond to a request for comment at this time.