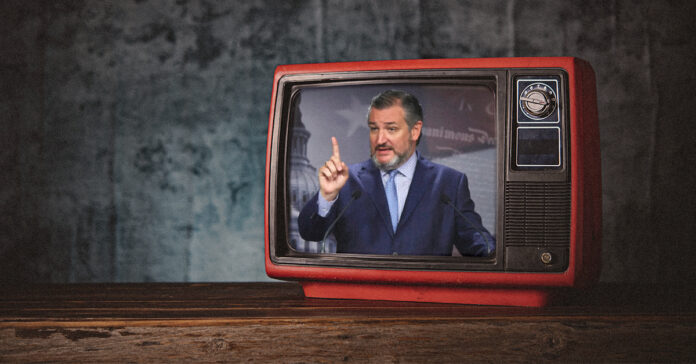 Republican Sen. Ted Cruz adores having the spotlight on him and is known to seize any opportunity to go viral. He sure loves a good meme, especially if they deter from the real issues politicians should be focusing on.

The Senator's life motto likely is: All Press Is Good Press (as long as you spell my name right).

Here is a round-up of some of his most camera-worthy moments. These are in no particular order, all of them are sure to make you laugh and cringe at the same time, after all, he's a US Senator, not a local comedian. 
Can I be Asian?

The bizarre moment Ted Cruz asked Supreme Court nominee Ketanji Brown Jackson if he could – quote – "be Asian?"
(go to 0:47 for the exact moment of the question)
The time Cruz left Texas to freeze while he vacationed in Cancun

Last year, the Senator decided it was a good idea to hop on a plane and leave Texas in the midst of a deadly winter storm that left hundreds dead and millions without power.

To this day, he thinks it is just all a big joke. Cruz condemns Democrats for vacationing in times of crisis, while at the same time cracking jokes about his brief visit to Cancun's sunny beaches.
Let's also not forget that he barbarically left the family poodle behind…
Ted "The Clutz" Cruz
The time he was an absolute jerk.

During a press conference to discuss Republican Senators' upcoming visit to the southern border, Cruz refused to wear a mask after a reporter asked him politely to put one on.

"You're welcome to step away, if you'd like," Cruz responded.

Talk about a blatant disrespect for others' safety.
All jokes aside, is Ted Cruz the "Zodiac Killer"?

The joke that Ted Cruz is the Zodiac Killer goes way back to 2013 when @RedPillAmerica tweeted that Cruz's speech at the Conservative Political Action Conference was actually going to be a confession of responsibility for the Zodiac Killer's crimes.

Since then, Cruz has ridden the "Zodiac Killer" wave, hitting a viral gold mine.
Call Me Dr. Seuss

Cruz delivered an old-style filibuster over President Barack Obama's health care law in 2013.

He touched on many topics and even recited Dr. Seuss' "Green Eggs and Ham."

How cute?
Just Ted Cruz Defending Nazis

Last year, in a hearing meant to discuss the Justice Department's intent to examine and address threats of violence against public school officials, Cruz invoked the first amendment to defend a nazi salute as a form of protest.

Slamming his hands on dais and raising his voice, Cruz said: " My God! A parent did a Nazi salute at a school board because he thought the policies were oppressive."
The Senator cancels Big Bird from Sesame Street

In order to help and encourage kids to receive the vaccine, Big Bird from one Sesame Street, a beloved show that has been running for over 50 years, commented on Twitter the importance of vaccines, so kids felt reassured before receiving the shot.

Sen. Cruz from Texas replied to the tweet posted by Big Bird (a fictional character) and called him out for "government propaganda".
Is he always this annoying?

Sen. Dick Durbin told Supreme Court Nominee Jackson there was "no point in responding" to Cruz's question, because of his constant interruptions.

The comment sparked a tense exchange between the Senators. "At some point you have to follow the rules," said Durbin.