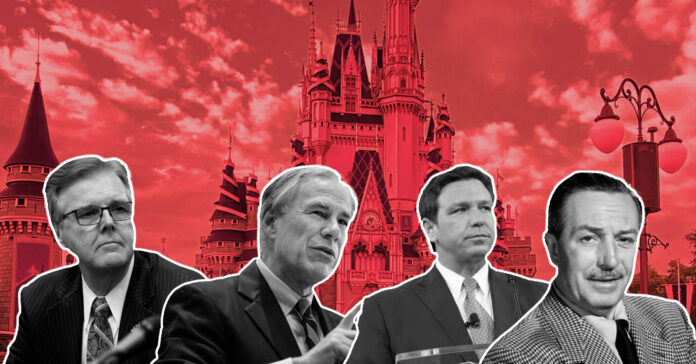 Republican leaders view social Darwinism as the leading method for developing a prosperous America. No government handouts, no government intervention. Leave the unfortunate majority to fend for themselves and let nature take its course. So long as the market represents their values.
Intervention now seems to be the winning strategy as conservative leaders strongarm corporations deviating from the path. Companies showing a semblance of support or sympathy for LGBTQ or pro-choice movements now find themselves in the crosshairs.
Lieutenant Governor Dan Patrick calls for conservatives to boycott the American staple, Walt Disney, after the company voiced opposition to Florida's "Don't Say Gay" law, which bans any reference to homosexuality in classrooms up to the fourth grade.
"Cut off the Disney Channel. Cancel your park trip or your cruise if one is planned. If you own Disney stock, sell it. Although I did not own many shares of individual Disney stock, I sold them today," Patrick said.
Texas state comptroller Glenn Hegar warns Texas may need to divest all Ben & Jerry's shares due to the company's unwillingness to do business in Israel's occupied West Bank
Fort Worth-based American Airlines offered a brief statement in 2021, opposing the "election integrity" bill that made it harder to vote. Patrick slammed the company, saying "Texans are fed up with corporations that don't share our values trying to dictate public policy." He continued, saying that if "Mister American Airlines" still wants preferential treatment from the Legislature, it cannot turn around and "slap [lawmakers] in the face."
More importantly, legislators are taking legal action to influence the behavior of businesses.
Last year, Patrick backed a bill requiring state investment and pension funds to divest from any company transitioning financial support from fossil fuels to renewable energy.
State Representative Briscoe Cain said he would bar Citigroup from underwriting municipal bonds in the state unless it reversed a policy assisting Texas employees to get abortions.
The "free market" doesn't seem that free.