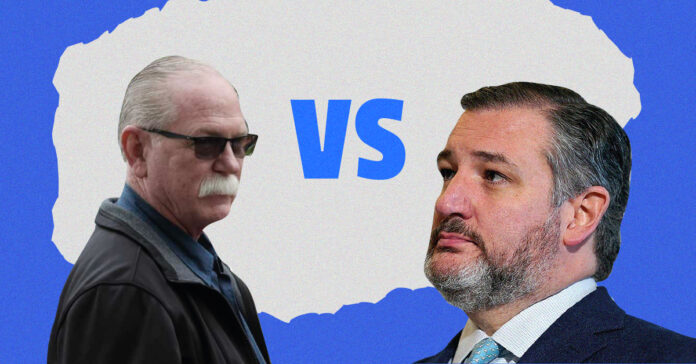 The father of a former U.S. Marine who was imprisoned in Russia for more than two years lashed out at Sen. Ted Cruz for not doing anything to help his son get home.

After Trevor Reed finally returned to Texas, his parents gushed about the Texas lawmakers who made it possible. Even though the Reed family was grateful they still had a bridge to burn with one particular Senator.

Joey Reed told the Dallas Morning News that he called Cruz's office on at least two occasions to ask for help with his son's case and was told the senator wouldn't be able to help publicly.
"He didn't do anything," said Joey Reed, "He's an embarrassment to the state of Texas, let me just say that. I don't care what or who runs against him, I will work for their campaign to defeat that son of a bitch."

Cruz has said he has been working behind the scenes ever since Trevor Reed was arrested in 2019 in Moscow, accused of assaulting a police officer after a night of heavy drinking.

The Senator claimed he had been advised not to get involved publicly because of his strained relationship with Vladmir Putin.

"'Because Senator Cruz is such an enemy of Putin, he's afraid that if he says anything, it will hurt your son,' the staffer said," Joey Reed told the News, recounting a phone call with Cruz's office. "We said, 'Are you serious?' 'Well, yeah.' 'Okay. Thanks a lot.' So he's never said another word."

After more than two years, Cruz finally called up the Reeds to congratulate them on Trevor's Release. 

"And I told him: 'Where have you been for the last two and a half years?' " Joey Reed said. "I hit him point-blank: 'We are not appreciative.' He said, 'Well, anything I can do,' and I said, 'We said we needed your help two and a half years ago, not now.' 
This is not the first time Cruz receives backlash for not doing enough to bring Americans home.

In August, U.S. Rep. Joaquin Castro, a San Antonio Democrat, said his office had received hundreds of calls from Texans who said Cruz refused to help get their families home from Afghanistan.

"Several callers indicated that they had reached out to Senator Cruz's office without a response or what they felt to be an earnest effort to help," said Castro's spokesman. "We have received similar calls on other issues over the years, as well."