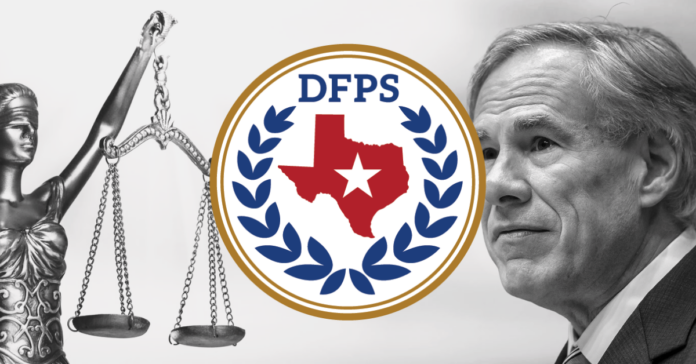 On Monday, November 28, 2022, Governor Abbott announced that three-year Commissioner Jamie Masters of the Texas Department of Protective Services (DFPS) had been immediately replaced by Interim Commissioner Kezeli "Kez" Wold, who would then be replaced by a new DFPS Commissioner Stephanie Muth on January 2, 2023.
This causes no immediate impact by firing Masters, as it relates to the ongoing litigation regarding Commissioner Masters February 18, 2022 announcement that she had adopted Attorney General Paxton's opinion, KP-0401 finding certain medical treatments of minor, transgender children, with the consent of their parents, constituted child abuse under Texas law and that she would comply with Governor Abbott's directive/order to instruct her employees to commence the investigation, and if necessary, prosecution of parents of transgender children who violated the law.
It has been asserted by this author in Reform Austin that, at the time Commissioner Masters adopted KP-0401 and ordered her employees to comply with it, the Office of the DFPS Commissioner was legally and constitutionally vacant and that at the purported request of the Governor, she was illegally exercising the powers of the office and constituted an unconstitutional state officer. Therefore, her orders were null and void. That remains to be true.
In addition, Commissioner Masters and her Legal Counsel wholly failed to understand that, when an interpretation is adopted by the Officer which applies to all similarly situated persons, such as all parents in Texas who have transgender children, it constitutes a "rule" under the Texas Administrative Procedure Act (APA). This failure caused them to wholly ignore the APA rule making procedures and thus, the "rule adopted" was null and void and never went into legal effect. These facts and legal effect have not changed.
Therefore, Commissioner Masters' acts of adopting KP-0401 have never had legal effect due to the fact she was an unconstitutional officer and the rules adopted are null and void.
However, the Judiciary has not ruled on the merits of these assertions as of this time, and the case is currently in the 3rd Court of Appeals on interlocutory appeal of Governor Abbott's and DFPS' plea to the jurisdiction. That appeal is currently on "hold" at the 3rd Court, and it is unknown when the Court will choose to decide the plea.
However, it is clear that the appointments of Wold and Muth do not, by themselves, change the legal scenario. It is presumed that Wold, as an "interim appointment," will continue the current policies and rules of Commissioner Masters unless ordered to do so by the Governor.
Yet, it is wholly unclear whether new Commissioner Muth will follow them, and if so, attempt to cure the procedural adoption errors of the transgender rules. Since they both were appointed by Governor Abbott and he demonstrated in the past his command that DFPS "must" approve a new transgender policy, it may be assumed they will continue its enforcement consistent with the parameters that were adopted by the Texas Supreme Court related to the 3rd Court injunction.
This decision by Governor Abbott is outrageous. There is simply no legal question that Commissioner Masters was an unconstitutional and thereby an illegal state officer at the time she approved the new interpretation of the child abuse laws. There is also no legal question that the adoption of KP-0401 as the new interpretation of the state's child abuse laws by DFPS was the adoption of an interpretive rule that is mandated to follow formal notice and comment procedures of the APA, which it did not.
Therefore, the officer adopting a rule had absolutely no legal authority to do so, and the rules adopted are null and void and without legal effect. Why take months of litigation and thousands of dollars to have a court find both acts were illegal when it is absolutely clear that they are? Is this a form of harassment of our citizenry by our Governor and the Attorney General's office?
Governor Abbott, if he really believes in this policy, should attempt to adopt it in a lawful, fair manner that includes public comment and mandates the DFPS prove in fact these medically accepted procedures are harmful to a transgender, minor child. Just do it the lawful way for once, Governor Abbott.