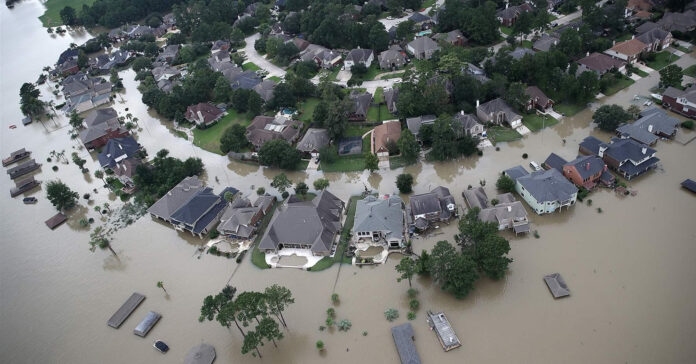 When Hurricane Harvey devastated Harris County in 2017, dozens of Texans died and more than 30,000 were displaced. Because the formula for distributing federal recovery funds was tied to property values, wealthy residents got help and low-income Black and Latino Harris County residents got left behind. And because of long-standing structural racism, that disparity manifested along racial lines. The average Black resident of a low-income Houston neighborhood received $84 in FEMA assistance, compared to $60,000 for an average white resident in a high-income neighborhood.
Organizers have fought hard against this injustice in the five years since Harvey. But Texans also deserve elected officials who will do the same. 
Immediately after Hurricane Harvey, organizers and members of Texas Organizing Project (TOP) went door–to-door in their communities to determine their immediate needs and lay the groundwork for a larger strategy to build power and equity.
First, they continued building upon a foundation they'd set via the Boards and Commissions Leadership Institute–an initiative designed to recruit, train, and campaign for women of color to join local governance bodies—and developed a diverse pipeline of candidates.
Second, TOP campaigned for and helped elect a new, equity-minded Harris County Judge, who oversees the county's boards and commissions and has considerable power over disaster relief spending. Lina Hidalgo, who defeated Ed Emmett in 2018, remains in office today.
The third step in TOP's strategy involved developing relationships with elected officials, including Hidalgo, holding them accountable to their campaign promises and building a co-governance model in which community members and government officials work together to build an equity framework for distributing disaster funding. 
These tactics got results. In 2019, Harris County passed the Harris Thrives Resolution, which included an equity-based framework that prioritized post-natural disaster projects for low-income communities that would not be able to rebuild on their own. In 2020, Harris County Flood Control District Task Force became the Harris County Community Flood Resilience Task Force, which focuses on equity, health, safety, community engagement, and increased transparency in flood recovery and resilience.  
When, in recent years, Harris County received more than $2 billion in federal funding for COVID relief through the CARES Act and the American Rescue Plan, Texas used a reformed distribution formula that took into account factors including communities' average income, the percentage of residents who are elderly, their English proficiency, and the percentage of residents without a vehicle.
But at both the state and local levels, Texas still has a long way to go to build and preserve equity in the face of climate disasters. In March, a report from the U.S. Department of Housing and Urban Development found that the Texas General Land Office—the state agency responsible for distributing relief funds—denied Harris County over $1 billion in Harvey recovery money. According to the investigation, the office, led by Texas Land Commissioner and attorney general candidate George P. Bush, "discriminated on the basis of race and national origin" and "substantially and predictably disadvantaged minority residents, with particularly disparate outcomes for Black residents." A year after Winter Storm Uri, Gov. Greg Abbott—who's running for re-election—continues to skirt accountability for an unstable power grid that ultimately left 4.5 million customers without power. And Sen. Ted Cruz fled to Cancun while millions of his constituents were left in life-threatening cold temperatures.   
The federal government has taken incremental steps towards addressing these climate inequities. Earlier this month, Congress passed The Inflation Reduction Act, which includes approximately $370 billion to fight climate change. The amount may be, as one activist told the Washington Post, a "once-in-a-generation investment," but a high price tag is no guarantee for equity. Fossil fuel companies lobbied hard for–and won–extensive concessions, resulting in a watered-down act that does not go far enough towards protecting the country against future climate disasters.  Implementation, at the federal and state level, is the real test. Politicians have a choice: use the same formula that privileged white, wealthy Americans in the aftermath of Hurricane Harvey, or work with frontline communities to ensure that the people most impacted by climate change have the resources they need to fight it. 
As Texas passes the fifth anniversary of Hurricane Harvey and toward November's gubernatorial election, ensuring equity for communities of color in disaster recovery and diversity in representation on the boards that decide how to allocate funds can't just be the work of nonprofit organizations like TOP. This must be a priority for every Texan in a position of power. Another storm is inevitable. But the inequity Texas saw after Harvey doesn't have to be.