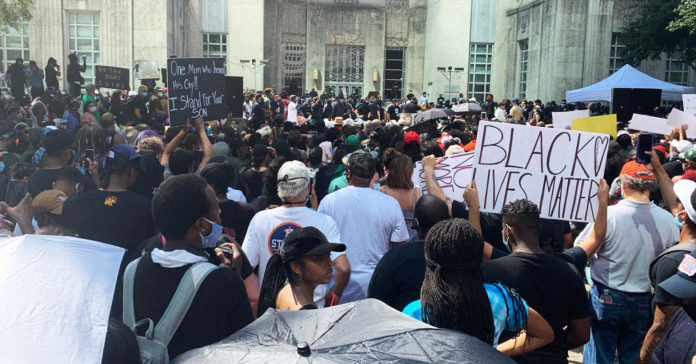 The Texas Department of Public Safety has confirmed it is investigating links between violent extremists, including Antifa, and some of the violence at recent protests about the death of George Floyd.
The Texas Rangers and DPS agents are working with their counterparts at the Federal Bureau of Investigation's Joint Terrorism Taskforce to pursue individuals who have been involved in inciting riots or looting in the state of Texas, DPS Director Steven McGraw said Tuesday.
"We are talking about violent extremists. There's anarchists. There's Antifa, but there are also criminals that are using this as an opportunity to exploit and to loot and hurt others. That's happened" said McGraw. "We have a long memory. We have recorded evidence, and we will continue to investigate each and every event to identify those individuals who were involved in criminal conduct and make the appropriate arrests based on probable cause and getting prosecution from either the district attorney or U.S. Attorney's Office."
McGraw said DPS has had special agents embedded with the protestors to try to identify the violent infiltrators. Some have already been identified and are expected to be arrested.
McGraw pointed to the May 31 protest and looting at a Target store in Austin as a violent act that was organized by Antifa via the Internet.
"The protest and looting of Target in Austin that was done and organized by an Antifa web page and of course, the surveillance that was provided over the internet identifying where law enforcement resources were staged, was done over Antifa accounts."
Twitter suspended an account claiming to belong to a national "antifa" organization and linked to the white nationalist group Identity Evropa. The newly created account with the handle @ANTIFA_US tweeted on Sunday: "Tonight's the night, Comrades," with a brown raised fist emoji and "Tonight we say 'F— The City' and we move into the residential areas… the white hoods…. and we take what's ours …"
McGraw said he has heard that white supremacists were involved in some of the violence, but he has not confirmed that. He describes Antifa as a loosely knit group with no hierarchy and members who self-identify.
McGraw stressed that the majority of those who have protested the killing of George Floyd by Minneapolis police have been peaceful and that DPS has an obligation to protect their right to protest.
Gov. Greg Abbott has echoed the same position, saying the violence has overshadowed Floyd's death and the push for swift justice. Abbott and others have attributed the violence to people from outside of Texas.
Antifa is short for anti-fascists. They don't trust the government or police and want to take matters into their own hands to try to stop white supremacists.