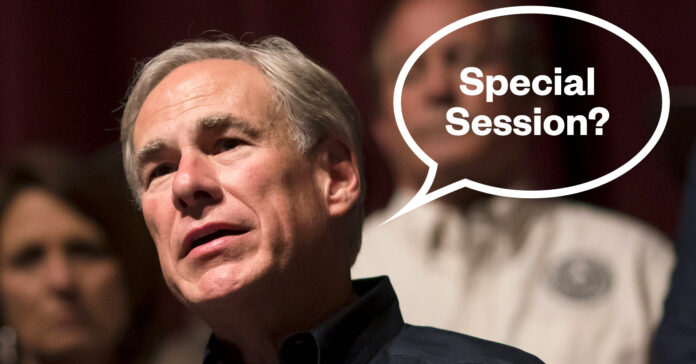 Claim: Did Texas Gov. Greg Abbott call for a special session to discuss gun reform?

In the past week, Abbott has faced pressure from Democrats and several of his Republican peers to call a special session in response to Uvalde's mass shooting and several news outlets reported he finally caved. But, did he really?

Newsmax: "Texas Gov. Abbott Calls for Special Session in Response to Mass Shooting."

Axios: "Texas Gov. excludes gun control from special committees on school shootings." (the title was later modified to: "Texas Gov. excludes gun control from special committees on school shootings").

Facts: On Wednesday morning, Abbott called on the Texas Legislature to form special committees to make legislative recommendations in response to the massacre at Robb Elementary School, where 19 children and 2 adults were killed.

In a letter to House Speaker Dade Phelan and Lt. Gov. Dan Patrick, Gov. Abbott told his fellow Republicans that a committee process should start "immediately" to address: school safety, mental health, social media, police training, and firearm safety.

Phelan said the House was already getting down to work, while Patrick named a committee Wednesday evening.

Final assessment: A special session can only be called by the Governor. They are often called to address issues that were not tackled during a regular session – where the Texas legislature proposes, debates, and passes bills to send to the governor. If a bill does not pass during the regular session, then it will have to wait until the following year to be pre-filed and until two years later to be introduced, assuming the Governor does not call the Legislature back for a special session in the interim.

After the mass shooting in Uvalde, Democrats have been pushing Abbott to call a special session to discuss gun reform and to implement measures before the upcoming school cycle begins.

Instead, Abbott called for a special legislative committee – which he doesn't even have the power to appoint.

Committees are different from special legislative sessions because they only have the power to hold hearings. Inviting anyone to testify holds some power, however in the end they cannot vote on bills or pass laws without being in session. The most useful resource the committees can hatch out is a report with recommendations on legislation that would be submitted to the Legislature when it is next gaveled into session in January 2023 – which could have just been done by the governor's office.

In response to Abbott's letter, Patrick created a Senate Special Committee to Protect All Texans chaired by Sen. Robert Nichols (R-Jacksonville). Joining Patrick's Committee is Phelan's Select Committee on Youth Health and Safety, which has recently added six more representatives from the areas of each of the major mass shootings that have rocked the state in recent years. The Select Committee also gained a seventh member in Drew Darby (R-San Angelo), who helmed the Committee on Mass Violence Prevention & Community Safety during the last interim following the El Paso and Midland-Odessa shootings. With new joint interim charges, the House Select Committee will study the implementation of school safety reforms passed in 2019 and evaluate strategies to prevent acts of mass violence, including firearm safety, evaluate preparedness and coordination of state and local law enforcement agencies, re-examine the role of online communication in this context and identify technology for detecting and mitigating threats, and study the needs of those who administer and are involved in youth mental health programs in Texas and its delivery.

Both Committees will be looking into Gov. Greg Abbott's call for a response to the Uvalde shooting along with the House Homeland Security and Public Safety Committee.

In addition, Phelan also announced the creation of a legislative committee to investigate the Uvalde Shooting. On it are former Texas Supreme Court Justice Eva Guzman, State Rep. Joe Moody (D-El Paso), and State Rep. Dustin Burrows (R-Lubbock). During its investigation, the committee will have subpoena power, power of depositions, and will be allowed for its investigation. 
Verdict: Abbott did not call for a special session or was anywhere near calling for one.

Instead, he called for special committees, which critics were quick to dismiss, arguing the time for committees had passed.

According to The Texas Tribune, the Legislature also formed special committees after mass shootings in 2019, and those discussions did not prevent the Uvalde school shooting from happening.

"Anyone can call for a committee. Only a governor can call a special session," O'Rourke tweeted. "Do your job."