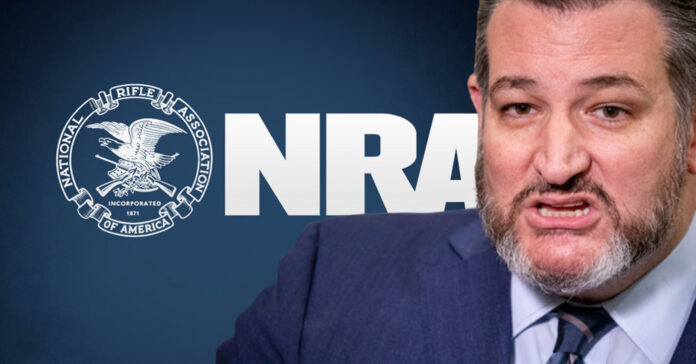 After the mass shooting in Uvalde, many republicans backed down from attending the annual NRA convention in Houston that happened just a few days after the tragedy. Some, like Sen. Ted Cruz and Donald Trump, refused to let go of the opportunity to talk about gun ownership despite the dire consequences they bring.
Ted Cruz gave a speech at the convention where he fully utilized the devastating event that occurred at Robb Elementary, where 19 children and 2 teachers lost their lives, to talk about the nation's need to boast gun ownership. Armed teachers and armed guards outside schools. He used the tragedy to talk about his own personal ideology and promote the use of the rifles that killed those kids.
He says there is no need to politicize this situation, yet the moment he is given a space on stage to talk about guns, he uses the tragedy to try and argue in favor of gun rights.
It didn't stop there, though. Now he is slamming the republicans who, in their right mind, backed down from attending the event in an act of respect and taking what happened with seriousness. Even Gov. Greg Abbott, a certified gun lover, didn't attend (albeit he did send a prerecorded message), and John Cornyn and Lt. Gov. Dan Patrick were among other GOP members who didn't appear on Friday.
Most didn't even state that they were not attending due to the shooting. Some had mysterious schedule plan changes at the last minute and others, like Cornyn, said that they had another event in another state. So, it wasn't even much of a stance because few besides Abbott actually acknowledged that they were not attending the convention in respect for the victims and their families.
"I was disappointed to see so many others make the decision not to be there," Cruz said in his latest podcast episode.
He also mentioned that he talked for a while with Donald Trump regarding those who chose to not attend the convention. The ex-president of the United States also told him that it was very important for him to be there, and that "he didn't back down", referring to the other members of his party.
Finally, he also said that Trump told him that he had "choice words for some of the folks who chose not to be there", with "classic Trump understatement".
He also endorsed his own speech, which he explained changed quite a bit from what he was originally planning to say in the face of the current events. So he talked about Uvalde, but not regarding how an 18-year-old could walk into a store and buy two rifles then use them to shoot his grandma and around 20 unarmed 10-year-olds in an elementary school. He instead said we needed to pray, fight America's great new "evil" (whatever that may be) and, of course, reinforce guns.