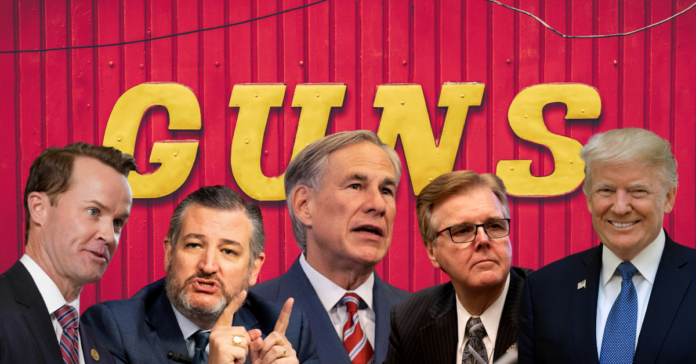 Republican politicians were placed under public scrutiny after not immediately canceling their attendance to the annual NRA convention at the light of the mass school shooting that happened on Tuesday in Uvalde, Texas. As the week progressed, more started to reevaluate their public appearance in such events.
The shooting, done by an 18-year-old who legally bought 2 rifles on his birthday, ended with the life of 19 children and 2 teachers. The response from the police was criticized (they arrived one hour after the shooter started shooting), and republican pro-gun politicians were as well, since none would dare mention that loose gun regulations ends up with dire consequences like this one.
The annual National Rifle Association convention will happen today in Houston, at the worst time frame possible. Conservative politicians and power figures were expected to attend: Ted Cruz, Greg Abbott, John Cornyn. Yet at such a sensitive time, it begs the question, why would these people say they are grieving and praying for the victims to then attend a giant convention advocating owning the rifles that killed those children and teachers?
One of the first ones to cancel was Texas Senator John Cornyn, whose representative stated he had "scheduling issues" and had to be in Washington D.C. the day of the convention. Texas Representative Dan Crenshaw will still be in Ukraine at the time of the event, so he will not be speaking either.
After public and social media pressure, especially from democrat candidate Beto O'Rourke, Governor Greg Abbott canceled his in-person appearance at the National Rifle Association convention in Houston. Since he has also been heavily criticized for the handling of the situation, he will instead travel to Uvalde, where the shooting occurred.
"After prayerful consideration and discussion with NRA officials, I have decided not to speak at the NRA breakfast this morning," he said in a statement for The Texas Tribune. "While a strong supporter of the Second Amendment and an NRA member, I would not want my appearance today to bring any additional pain or grief to the families and all those suffering in Uvalde."
He will still be present, though: a pre-recorded message of him will play at the convention and he is still listed as an official speaker in the event's website. It seems he still fears the criticism he will receive from GOP members and conservatives who support the NRA and gun ownership and refuse to put guns in any blame for the shooting.
Texas Lt. Governor Dan Patrick, who was also scheduled to speak at the convention, canceled his assistance. He stated a similar message to Abbott's in a press release statement. He had to insist that he is still an NRA supporter and believer in the Second Amendment. Texas House Speaker Dade Phelan also stated to the Houston Chronicle that he has declined an invitation to give a speech at the NRA convention.
Musicians who were planning to attend the convention also canceled, like Don Mclean,Larry Gatlin, Lee Greenwood and T. Graham Brown. Mclean was one of the first ones to pull out, and one of the most popular figures expected at the event.
McLean expressed in a statement for CNN, "In light of the recent events in Texas, I have decided it would be disrespectful and hurtful for me to perform for the NRA at their convention in Houston this week."
Others have not read the room and still feel like attending a gun convention not even a week after a mass shooting in an elementary school is a good idea. Ted Cruz insisted that he will be there, giving a speech. He wishes for shootings to be seen as isolated events with no need to be politicized.
"You know, inevitably when there's a murder of this kind, you see politicians try to politicize it. You see Democrats and a lot of folks in the media whose immediate solution is to try to restrict the constitutional rights of law-abiding citizens. That does not work," stated Cruz according to NBC News
In many people's opinion, though, there's really no better opportunity for Cruz than this one to skip the NRA convention and escape to Cancun, like he did back in the day when Texas suffered a winter storm.
Another power figure who refuses to withdraw from the gun loving weekend is ex president of the United States Donald Trump. He will deliver a headline speech in support of gun ownership, which he stated in his personal social media platform. He stated he could not give up the chance to "deliver an important address to America".
55,000 people are expected to attend the annual NRA convention. An association that has been dedicated to reinforce the idea that Americans should own guns to "protect themselves" and has impulsed laws like the one in Texas that allows anyone who isn't a minor to buy rifles and guns with no background checks or permits, signed by Abbott himself.
The NRA has also donated $651,123 to congressional candidates, according to Open Secrets. 98% were Republicans. It is no surprise then that they are so hesitant to take a stance, to acknowledge the public crisis poor gun control brings to the country and to do their job to solve this pressing issue.