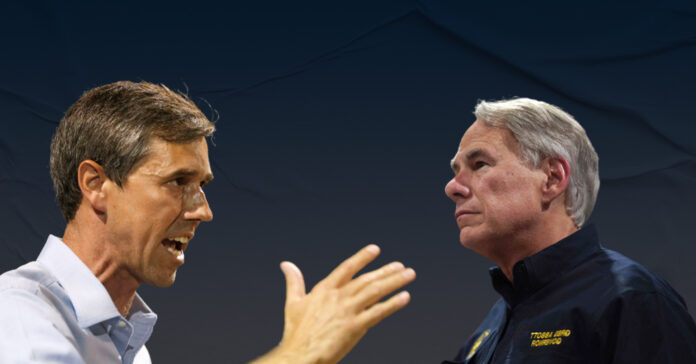 It was like something out of a Mr. Smith Goes to Washington.
Top Texas Republicans, including Governor Greg Abbott, Lieutenant Governor Dan Patrick, and Speaker of the Texas House Dade Phelan gathered on stage for a press conference about the massacre at Robb Elementary School in Uvalde that left 21 dead, 19 of them children. As Abbott passed the microphone to Patrick, the governor's Democratic challenger Beto O'Rourke strode to the stage and called out "this is on you."
"You said this was not predictable? This is totally predictable when you choose not to do anything," he said in a calm, clear voice as those on stage screamed back at him that he was out of line.
The remarkable appearance by O'Rourke has people asking if he can really win the governor's seat this November. A former representative from El Paso, O'Rourke was once seen as the great blue hope for Texas and came within 3 percentage points of defeating Senator Ted Cruz in 2018, the closest any Democrat has come in a generation. After his loss, O'Rourke through his hat in the ring for president in 2020 but failed to make much of a showing. Two high profile losses were starting to dull his golden boy image, despite him handily winning the Democratic Primary for Governor.
But can he beat Abbott? He actually might.
There's no arguing that Abbott is beating O'Rourke in the polling, sometimes by as much as 15 points. Out of 16 polls taken since last June, O'Rourke has only been ahead in one. That was from a fairly obscure firm without a long track record, and even then, O'Rourke only triumphed by a single point.
That said, the polling also reveals that Abbott may not sail to victory even with his considerable lead. Of those 16 polls, only three of them show Abbott getting 50 percent or higher of the vote. None of them put the governor at more than 52 percent. His average is 46.5 points, which may still give him the victory, but it definitely puts him in a tough spot.
It's not hard to see why Texans might be disenchanted with Abbott. His quest to end abortion access in the state may have endeared him to his far-right base, but nearly 80 percent of Texans think he went too far. His stunts at the border which have cost billions of dollars in revenue for the state likewise angered even his own party. Plus, he is embroiled in a scandal at a licensed foster care facility that has been accused of sex trafficking minors. The fact that Abbott sent Texas Rangers to investigate, who then exonerated the facility, has a judge questioning whether Abbott was trying to make the case go away for political reasons. It's unclear what effect the Uvalde shooting (and Abbott's subsequent appearance at an NRA convention this weekend) will have on his polling.
With all eyes on the two of them, and the fallout from a midterm fresh in the news, the political climate could change rapidly. 
O'Rourke's stand at the press conference has appeared to strengthen his standing in the state among his base, engaging them out of lethargy borne of his two recent losses. It might just be enough to deny Abbott another term.
updated.