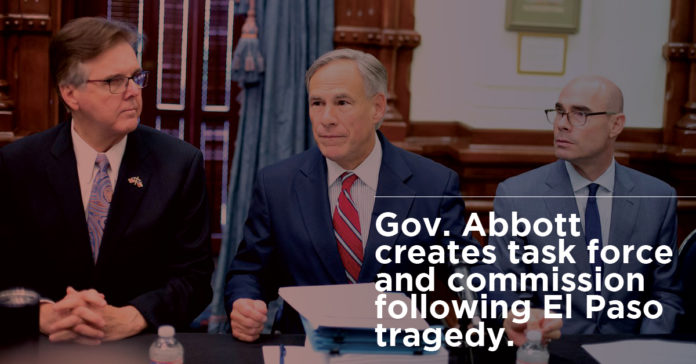 In response to the tragic shooting in El Paso earlier this month that left 22 dead and others wounded, Governor Abbott created both a task force and a safety commission to build public support, awareness, and discuss action items to resolve some of the most serious issues facing Texans. In the absence of a special session, these two groups appear to be part of the "many levers" outside of a legislative session the governor mentioned were available to him in a recent town hall appearance.

The Texas Safety Commission, comprised of over 25 elected officials and leaders, was formed to find solutions that would keep guns away from deranged individuals and fight against extremist groups, domestic terrorism and cybersecurity threats.

In a press conference held in Austin in conjunction with the first official meeting of the commission, some of the topics Gov. Abbott highlighted incuded healing counseling in affected communities, mental health, "welfare checks," and acts of terrorism. He also discussed preserving the second amendment for those who are not a threat.

Members of the commission will participate in several meetings and hear from stakeholders in industries that range from social media to law enforcement. According to Sen. Jose Rodriguez (D-El Paso), a member of the commission, the meeting topics Abbott proposed were crafted in order to explore where there are gaps in the law, and where additional laws would be beneficial.

This commission works in parallel to Abbott's 'domestic terrorism task force,' which will focus on protecting against statewide acts of extremism and bring together Texas leaders from a variety of backgrounds. The El Paso shooter's declared intent to "kill as many Mexicans as possible," led state leaders to for a "group of experts" that will "analyze and provide advice on strategies to maximize law enforcement's ability to protect against acts of domestic terrorism, according to a press release from the governor's office.

The first meeting for the task force will be held August 30th.

Members of the task force include: Gov. Greg Abbott, Lt. Gov. Dan Patrick, Attorney General Ken Paxton, Speaker of the House Dennis Bonnen, Texas Department of Public Safety Col. Steve McCraw, Texas Division of Emergency Management Chief Nim Kidd, Texas Military Department Major General Tracy Norris, Texas Department of Information Resources Executive Director Amanda Crawford, Texas Parks & Wildlife Department Executive Director Carter Smith, U.S. Attorney John Bash, District Attorney K. Sunshine Stanek, El Paso Police Chief Greg Allen, Hidalgo County Sheriff Eddie Guerra, Collin County Sheriff's Office Capt. Anthony Carter, Jeff Mrrary, and others.