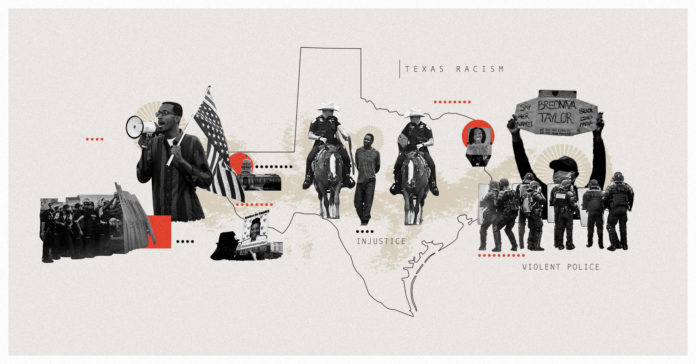 As anger and protests continue on the heels of Houstonian George Floyd's killing while in custody of Minneapolis police, it's worth noting that Texas too has a baleful history of law enforcement violence in relation to the public it serves.
It's hard to divorce perception and fact from history. A statue of Texas Ranger Capt. Jay Banks was recently removed from Dallas Love Field reportedly due to Banks' racist actions and the racist policing past of the venerated law enforcement agency that killed hundreds of Mexican-Americans between 1915-1919.
Race has always existed within policing institutions, said Doshie Piper, a member of the Texas Organizing Project and associate professor of criminal justice at the University of Incarnate Word in San Antonio.
"There always has been," she said in an email to Reform Austin. "Little has changed. Police departments have a long history of racism. Slave patrols laid the foundation for current police brutality in the United States."
Texas NAACP President Gary Bledsoe said in a 2015 Dallas Morning News and Reporting Texas article that the police became an arm of repression and antagonism after the emancipation of slaves in order to control the African American population. 
"It's systemic and widespread to this day," Piper wrote. "In Dallas and Denison, in the summer of 2019, two police offers were caught making and circulating bigoted posts on social media going back to 2010, targeting African Americans, activists, Latinos, immigrants, Muslims, LGBT people and women."
Misconduct by law enforcement personnel in America didn't just begin in the 20th-century but is as old as policing itself, according to "An Alternative Remedy For Police Misconduct," by Samuel Walker and Morgan Macdonald and published in 2009.
"Beginning with the very first police departments in the 19th-century, there were significant patterns of police misconduct, including: the use of excessive force, illegal detention and arrests, coercive tactics to gain confessions, illegal searches and seizures, race discrimination (with respect to both arrests and the use of force), and corruption."
But impactful changes occurred during the 20th century that expeditiously set the problematic course society is now traveling.
"The urban invasion process in Texas began to grow around 1920, bringing poor and threatened rural African Americans to cities to find employment and better educational opportunities," said Dwight Watson, an associate professor of history at Texas State University. "In doing so, it put them on a collision course with the guardians of democracy, the police."
He said that policing moved away from a community approach model to a peripheral one in the 1930s.
"Where, rather than stay inside the community, develop relationships with people, walk the beat … police started to — because of the automobile — began to move around the periphery and cut across borders through the city so they had to use avenues of enforcement," he said.
A study by Watson about the Houston Police Department indicated that most of the officers interviewed saw themselves as the shepherds for the elite in society. He said that many officers don't live in the municipalities where they serve, creating a disconnect between themselves and the community they're supposed to be protecting.
The biggest issue is the personalization of the law by police officers who are tasked with operating by the letter of the law Watson said.
"The truth of the matter is they feel like you are challenging their authority. The law becomes second. The authority becomes first. And so they become possessive of the mission, and then that's when violence and intimidation occur because they already see people as inferior to them because they don't know these people."