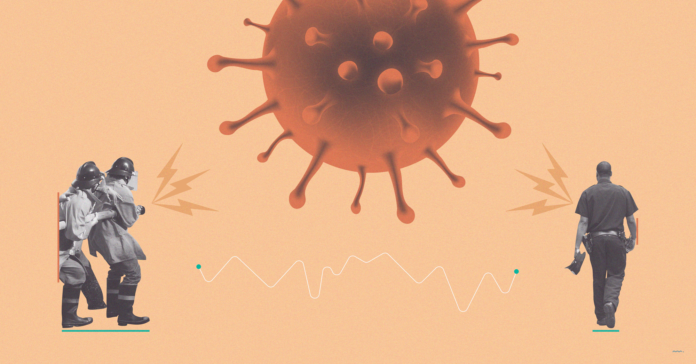 First responders and law enforcement officials in Texas are seeing COVID-19 outbreaks among staffs, and one of the state's largest unions has nothing nice to say about protection of public servants by federal, state, and local governments.
"Oh, hell no," said Charley Wilkerson, executive director of the Combined Law Enforcement Associations of Texas when asked if there had been any sort of guidance from above on how to protect officers and other first responders in the field.
"In March, seeing that there was no PPE (personal protective equipment) for law enforcement, we sent a letter to the president and copied the senators and governor asking where it is," he said. "If there is a stockpile, please release it. There was crickets. We did eventually get a call from a staffer from John Cornyn. We said, if you can't release, we'd like to buy the PPE. We went out in the open market and bought it. We put our staff on the road. We spent over $300,000 on this, using only officers' dues. We used no government money. We did that single-handedly trying to flatten the curve."
There is no doubt that the spread of COVID-19 is having an effect on staffing among Texas police, fire fighters, and other first responders. These are not jobs that can be done remotely and often require close interactions with the public.
In Houston, where there has been a tremendous spike in the number of coronavirus cases since the beginning of summer, at least 200 officers have been placed in quarantine because of exposure to the virus. Police Chief Art Acevedo announced that 178 of those had tested positive, but he was quick to add that none were seriously ill and their absence had not yet affected things like response time to emergencies. The chief cited the re-opening of the state as the cause, while the Houston Police Officer's Union blamed the protests over the death of George Floyd.
Not every city has experienced the size of outbreaks that Houston has. Dallas Police Department Patrol Bureau Assistant Chief Lonzo Anderson reported that there has been no effect on the ability of the DPD to do their jobs because of the pandemic but did not give numbers of infected officers. The Dallas Fire Fighters Association also reported that they are far from any sort of crisis because of sick staffers.
"We have been fortunate," said President Jim McDade. "We came into this fully staffed. Even with people being sick, it hasn't affected our coverage. There is a whole plan in place if more than 25 percent of the department is out, but we're real far from that."
Still, there are plenty of places around the state where infections among officers do serious damage.
Wilkerson specifically cited Corpus Christi, where an outbreak at the Nueces County McKinzie Jail hit the staff particularly hard. Fifty officers were pulled from other duties to make up the difference. Prison and jail populations have been among the hardest hit groups during the pandemic, with the number of infected in Texas alone being nearly 7,000.
"The prisons have been hard hit," Wilkerson said. "We've had two deaths in Corpus Christi, two deaths in Harris County, and a large number of deaths in the department of criminal justice correction officers. It's been widespread, and the deaths are very discouraging. In late March, there was an outbreak in Abilene among firefighters, EMTs and police officers. When the virus gets really active, first responders are going to be very vulnerable. No matter what they do regarding following protocol, they are going to be more susceptible. They aren't going to be allowed to miss work."
On top of the lack of initial protective equipment, CLEAT is critical of Gov. Greg Abbott's lack of a presumptive order regarding officers who get infected. Though his group is proud of acquiring the necessary items to better serve officer safety, what Wilkerson calls "bridging the gap until the government lies caught up with the truth," it's still fighting with the effects of officers who get infected. As of now, there is tremendous red tape to determine whether they were exposed in the line of duty or in their off hours. Wilkerson wants an executive order presuming that any first responder who tests positive should be presumed to have been exposed through work, something he also says should apply to all essential workers from EMTs to convenience store clerks.
"This government, federal and state and local, were deeply ill-prepared for anything like this," Wilkerson said. "We don't have to ask a coal miner why they have lung issues. Nor should officers have to prove how they got COVID. If you died in Texas while working, it would be presumed it happened in action. Certainly that's what is happening to the jailers. Denying that puts officers and their families in trouble. Right now, they have to walk through their entire lives to see where they might have happened. It's unjust and unfair as the government could be in treatment of its workers."