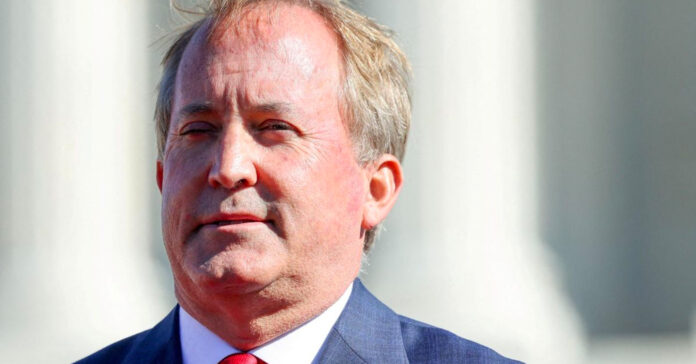 "Life is short no matter what", said Texas Attorney General Ken Paxton about the mass school shooting that happened last month in Uvalde, in which 19 kids and two teachers lost their lives.
He had the nerve to say that if he was with the grieving parents of the victims of Robb Elementary School, he would tell them that "God has a plan". He also went to social media to fight with people who pleaded to rethink gun regulations in the United States, since the shooter who killed those kids bought two assault rifles legally on his 18th birthday.
Paxton recently had an interview with conservative radio host Trey Graham, who said that he acknowledged it must be hard to bring peace to the victims' families.
"If I lost one of my children I'd be pretty devastated, especially in a way that is so senseless and seemingly has no purpose," he stated. "I think … I would just have to say, if I had the opportunity to talk to the people I'd have to say, look, there's always a plan. I believe God always has a plan. Life is short no matter what it is. And certainly, we're not going to make sense of, you know, a young child being shot and killed way before their life expectancy."
While he was saying this very insensitive commentary regarding the tragedy, the pediatrician in Uvalde that treated some of the victims, Dr. Roy Uvalde, made a plea to the government to reinforce gun regulations during a congressional hearing. He stated that he was forever haunted by the state the children were in when they arrived at the hospital.
Guerrero recalled in the hearing that "two children whose bodies had been so pulverized by the bullets fired at them, decapitated, whose flesh had been so ripped apart, that the only clue as to their identities was the blood-spattered cartoon clothes still clinging to them."
He showed his desperation at the lack of action from politicians and the grueling reality he had to face when treating elementary school children with wounds from rifles used for warfare. "The thing I can't figure out is whether our politicians are failing us out of stubbornness, passivity, or both."
The mother of one of the victims, Kimberly Rubio, also spoke at the congressional hearing. She lost her 10-year-old daughter Lexi in the shooting. She asked for the same thing Doctor Guerrero did: urgent gun control.
"We understand that for some reason, to some people, to people with money, to people who fund political campaigns, that guns are more important than children," Rubio said in her testimony along with her husband, Felix. "Somewhere out there, there is a mom listening to our testimony thinking, 'I can't even imagine their pain,' not knowing that our reality will someday be hers. Unless we act now."
While doctors, survivors, and family members struggle to tackle the trauma that followed the massacre in Uvalde, republicans and conservatives refuse to do their job and take responsibility. Paxton's response is not only extremely insensitive but disheartening since he is one of the few in actual power who could create a change.
If they truly believe God's plan included an 18-year-old killing 19 children in their school classroom, and that in the end life is short for everyone, then we have little hope they will actually do something to fix the violence and gun crisis in the United States.