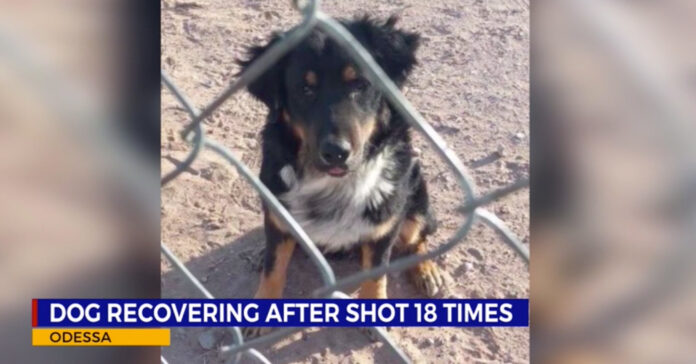 Hughie is fighting for his life as locals get together to try to save him. He was abandoned and left to fend on his own with 18 bullet wounds in his body.
The dog was found lying on the streets and was taken to the vet as soon as possible. He was a stray dog living in Odessa and a few locals recognized him since he frequented the area regularly. As the medics cared for him and checked the x-rays, they stood in shock to see 18 pellets from a pellet gun in his body.
The vets explained the wounds are from different events at different stages of his life, since some scabs are fresher than others, and some of the pellets are deeper into his skin than others. Most of the pellets are in his neck/head area.
The people caring for him, Permian Basin Animal Advocates, felt their hearts shatter to see the state poor Hughie was left in. Kelsey Kuhrt, a member of the association, was the one who first found him.
"Of course, number one, we weren't expecting it so as soon as everyone saw the x-rays just kind of, gasped," said Kuhrt.
Hughie, as stated before, was well known throughout the neighborhood. Many people helped feed him from time to time but had also started to see that his health was declining. He seemed to be going blind and was being attacked by other packs of stray dogs.
When Hughie arrived at the vet the pellets were too deep to take them out and would cause more damage than good if they tried to do so. These wounds are also what caused him to go blind in his right eye and have a notorious limp.
"That's when she was like 'oh clearly he's been shot', let's see if that's what's going on, why he's lost vision in his right eye, and sure enough yeah that was the case on pretty much everything that's wrong with him, is caused by being shot", Kuhrt also added.
Kuhrt and the vets stated they had never seen a stray dog in a state like this one before. There have been cases in which dogs are shot after they try to steal livestock from farmers, but 18 bullet wounds are something unprecedented. She also emphasized that Hughie is a very sweet dog who didn't bother anyone.
There has been a small campaign to raise money to cover his medical bills and to continue to find a permanent new home for Hughie. The support that has come from the community is what has allowed Kuhrt and her team to continue to save his life.
You can help cover Hughie's medical expenses and look into adopting him by checking their official Facebook page, where they continue to post updates and also share stories of the other animals they care for.