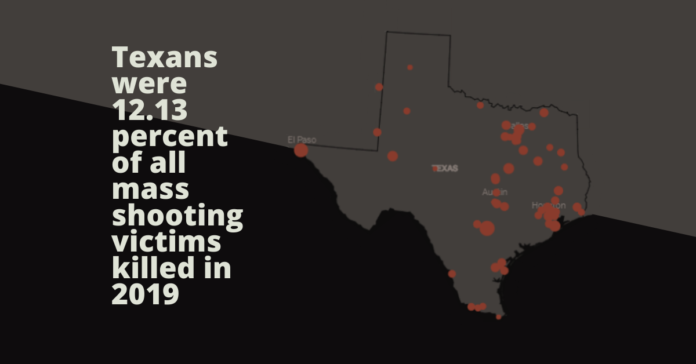 Despite making up only 8.77 percent of the United States population, Texans were 12.13 percent of all mass shooting victims killed or injured in 2019.
Last year saw a record number of mass shootings in the United States. The generally accepted number is 434 incidences, more than one a day for the calendar year. Though there is no hard rule for what counts as a mass shooting regarding number of victims, the list on Wikipedia is compiled from crimes that met criteria from at least two different news sources, Stanford University, the FBI, and/or the Congressional Research Service.
Though Texas had slightly fewer mass shootings than its share of the population (8.53 percent), its victim count exceeded its population share thanks to a string of the most deadly attacks of the year. The two attacks with the most victims happened in the Odessa and Midland attacks (33 killed or wounded) and in the El Paso massacre (46 killed or wounded). Between the two of them alone they account for 3.66 percent of all mass shooting victims.
The number of victims is disturbingly oversized. For comparison, California makes up 12 percent of the country's population, but only 12.41 percent of its mass shooting victims in 2019. On the other hand, Texas was far less overrepresented than Illinois, which had 9.68 percent of mass shooting victims despite being only 3.88 percent of the population.
Notably, the recent shooting at the West Freeway Church of Christ in White Settlement does not count among the year's mass shootings due to its low body count (less than four), but between it and the horrific attack that killed or wounded nine people at a music video shoot in Houston, it put a bloody cap on the year that has many crying out for something to be done.
"This isn't normal, and it's not acceptable," said Hilary Rand, volunteer chapter leader with the Texas chapter of Moms Demand Action for Gun Sense in America in an online statement. "People should be able to go to Sunday church services without having to duck for cover. We're thinking of each of the families affected by today's shooting, and we're more committed than ever to working for the safer future Texans deserve."
The White Settlement attack is likely to muddy the Texas gun control debate. It comes after the passage of a controversial law that went into effect in September that allowed people to carry weapons in places of worship with the permission of the worship leader. It supplemented a 2017 law that allowed churches to have armed volunteer security details. The shooter at West Freeway Church of Christ was killed by two armed voluntary security guards, which many in conservative media have already hailed as proof that guns in church protect congregants from harm.
However, it should be noted that while the quick actions of armed bystanders prevented a greater tragedy in White Settlement, their presence and the law does not appear to have deterred the shooter from beginning his attack in the first place. It is a common misconception, led by the debunked research of John Lott (his most cited quote is "Since at least 1950, only slightly over 1 percent of mass public shootings have occurred where general citizens have been able to defend themselves."), that the presence of guns makes potential shooters seek other locations where guns are prohibited for their attacks. In fact, there is no clear evidence that the presence of armed citizens or even law enforcement or military personnel have any effect on the choice of killing ground.
The most common reason that a shooter targets a location is because of a personal grievance or connection. This is true with the White Settlement shooter, who reportedly was angered by the church's refusal to give him cash. Other attacks, as in El Paso, often have racist motivations, while shootings like the deadly 2017 Sutherland Springs appear to be driven by family disputes and misogyny.