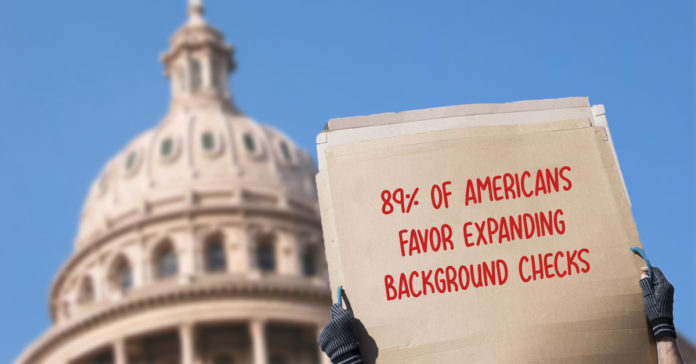 Lt. Gov. Dan Patrick has said he's willing to "take an arrow" from the NRA. Albeit, it's a small arrow for a small concession. Patrick wants to expand background checks for stranger-to-stranger purchases, though not for gun transfers between family and possibly friends.
Patrick's heroic stand to close a loophole by creating an even more easily exploited loophole was prompted by reports that Seth Aaron Ator, the gunman behind the Midland-Odessa shootings, purchased the gun he used in his rampage in a private sale.
The NRA attacked Patrick's minor gun control measure by calling it a "massive, governmental gun registration scheme." For decades, it's been a truism in Republican politics, especially in Texas, that you don't anger the NRA.
The organization consistently used its war chest to pick-off lawmakers the board felt threatened unrestricted access to firearms, despite the fact that 80 percent of U.S. gun owners are not NRA members.
The NRA has been, and remains, one of the largest contributors to Texas Republican politics. In the 2018 election cycle, the NRA donated $64,550 to members of the Texas Congressional Delegation. The organization and its state affiliate, the Texas State Rifle Association, gave another $14,500 to state elected officials.
The TSRA is on such friendly terms with the Republican political establishment that Patrick keynoted its 2018 fundraiser. Despite the GOP's longstanding love affair with the NRA, Patrick may be able to use the will of the Texas people as a shield for that arrow.
In a recent interview with the Dallas Morning News, Patrick related some alleged stories that were possibly from his constituents. The 'lite gov' described how gun owners don't understand why the state of Texas allows "strangers to sell guns to total strangers when they have no idea if the person they're selling the gun to could be a felon."
"Look, I'm a solid NRA guy, but not expanding the background check to eliminate the stranger to stranger sale makes no sense to me and … most folks," Patrick said. He's right about most folks.
An August 2019 poll by NBC News-Wall Street Journal found that 76 percent of people support "red flag" laws to identify dangerous persons and deny them guns and 75 percent favor a voluntary gun buyback program.
A ban on the sale of semi-automatic weapons was also supported by 62 percent of respondents, but only 25 percent of people support banning handguns.
However, the most popular measure, by far, is the expansion of background checks for gun sales. The vast majority, 89 percent, of Americans favor expanding background checks. Support for background checks isn't new.
A 2018 Quinnipiac poll found that 97 percent of responders — including people with guns in the household — were in favor of requiring background checks for all gun purchases.
That same poll found that most people, 70 percent, felt that mass killings from U.S. Citizens were a bigger problem than mass killings from foreign attackers. The Quinnipiac poll wasn't isolated in its findings.
A 2017 Pew poll found similar numbers. Among gun owners, 77 percent wanted to expand background checks to private sales — like the ones Patrick was talking about. The second most powerful politician in Texas has the majority of people, including most gun owners, on his side.
It's not hard to guess why. So far there have been 24 mass shootings in Texas in 2019 alone, the FBI defines as a mass shooting as one in which "four or more [people are] shot and killed in one incident, excluding the perpetrators, at one location, at roughly the same time."
Because of their frequency, most mass shootings don't become headline news. In addition to the El Paso and Midland-Odessa shootings, seven people were injured when someone shot up a party in Houston on Aug. 17.
About two weeks earlier, on Aug. 5, In San Antonio, four people were found dead in a triple murder-suicide-structure fire. A gunman killed his uncle, grandmother, mother, set his house on fire and then took his own life.
A few weeks before that, on July 17, in Lubbock, a shooter opened fire on a car full of people — killing one and injuring three others. This year's crop of mass shootings has left a total of 181 people dead or injured in Texas. At the time of this writing, Sept. 19, the only month in which Texas didn't experience a mass shooting was March.
So far, Texas can claim the most deadly and third deadliest mass shootings of the year, a grim boast if ever there was one. How effective background checks will be on stranger-to-stranger gun sales when people can just say that they're friends and skip the whole process is debatable.
However, there is no doubt that the idea is popular with everyone who isn't the NRA.