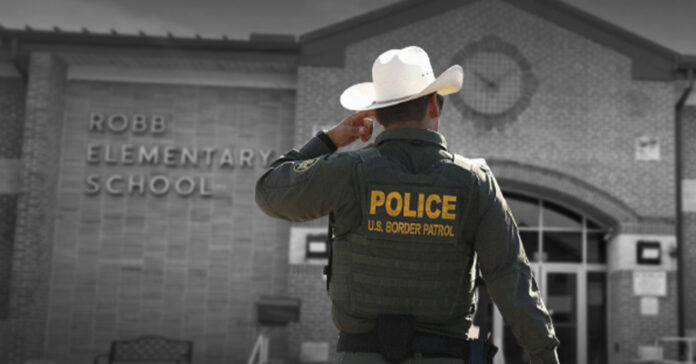 A report from the Texas House Committee on the Robb Elementary Shooting states that Texas Department of Public Safety and Border Patrol officers should have taken control during the massacre.
"A major error in the law enforcement response at Robb Elementary School was the failure of any officers to assume and exercise effective incident command," the report reads. "Uvalde Police officers responding to a vehicle wreck and shots fired appear to have arrived first on the scene, which would make one of them the initial incident commander. Uvalde CISD Police Chief Arredondo quickly arrived as the incident moved to school property and the law enforcement This made him a natural person to assume command over an incident as it developed. But Chief Arredondo does not consider himself to have assumed incident command."
The scene at Robb Elementary was extremely chaotic. One of the causes of that chaos was the sheer number of law enforcement personnel on the scene from different jurisdictions. The final officer count lists 149 United States Border Patrol officers, 91 Texas Department of Public Safety officers, 25 members of the Uvalde Police Department and 16 members of the Uvalde Sheriff's Office, 16 San Antonio Police Department (SWAT) officers, 14 officials from the Department of Homeland Security and 13 from United States Marshals, and 52 assorted other law enforcement and public safety officers.
The ALERRT system, which covers the training for Texas police regarding mass shootings, states that the first officer on the scene takes command of the situation. Command is then continuously passed up the chain to the highest ranking person as the situation continues. Chief Arredondo was the obvious choice to command at first, but a lack of direction was apparent as the shooting continued. Arredondo became consumed with finding a master key to the classrooms for 30 minutes. Other officers began to self-deploy and tackle jobs outside. Some were told that the chief was negotiating with the shooter.
"This is not unique to police, but if you walk into a hallway and you're the last one there and there's 12 people on the other end of the hall in front of you, you presume in many cases they're doing what they're supposed to be doing and you don't have the information that they see," Cullen Grissom, deputy chief of credentialing and field services at the Texas Commission on Law Enforcement, told The Austin American-Statesman.
Nonetheless, as state and federal officers arrived on the scene, they should have realized that there wasn't a coherent chain of command. Meanwhile, the attack went on for more than an hour as law enforcement officials passed the buck. In the end, 21 people were killed, 19 of them children.
"To the extent any officers considered Chief Arredondo to be the overall incident commander, they also should have recognized that was inconsistent with him remaining inside the building," the report concludes. "There was an overall lackadaisical approach by law enforcement at the scene. For many, that was because they were given and relied upon inaccurate information. For others, they had enough information to know better."