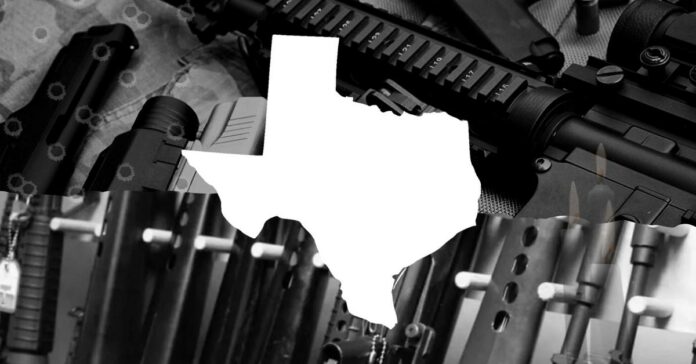 As Texas continues to loosen gun restrictions, the state leads the nation in total firearm deaths, and by a lot.
Using data from the Centers for Disease Control, USA Facts laid out a grim set of statistics showing the rate of firearm deaths has greatly accelerated in the nation, even since just 2019. Total firearm deaths, including suicides, reached 45,222 in 2020, a 14 percent increase from the year before.
The report includes a state-by-state breakdown in raw numbers rather than percentages, meaning some additional math is needed to give things context. Even then, the numbers for the Lone Star State are shocking.
In 2020, Texas had 4,164 firearm deaths, or 14.5 per 100,000 residents, almost a thousand more than the next two states (California and Florida) and twice as many as the fourth state (Georgia). It's an increase in pure number of deaths since 1981 (3,416), but a drop in percentage (23.1 per 100,000 residents). However, Texas shouldn't exactly be celebrating that considering how the rest of the country is doing.
The only state that even comes close to Texas in terms of total number of firearm deaths is California, but percentage wise they are doing far better. In 2020, The Golden State had 4,010 firearm deaths, or just 10.2 deaths per 100,000 residents. Their deaths have also been in decline since 1981 percentage wise, when the firearm death rate was 3,449 (14.2 per 100,000 residents).
In fact, most of the states considered "gun friendly" tend to have runaway firearm death rates by percentage, though by that measure Texas ranks near the bottom.
*Mississippi = 27.4 per 100,000
*Wyoming = 26.5 per 100,000
*Alaska = 23.74 per 100,000
*Missouri = 23.3 per 100,000
*Montana = 22.4 per 100,000
*Oklahoma = 20.9 per 100,000
*Idaho = 18.3 per 100,000
*Arizona = 17.6 per 100,000
*Kansas = 17 per 100,000
*Texas = 14.5 per 100,000
By contrast, the states considered the least "gun friendly" due to the most gun control laws tend to have far lower percentages.
*Illinois = 13.7 per 100,000
*Maryland = 13.3 per 100,000
*New York = 12.6 per 100,000
*Washington = 11.50 per 100,000
*California = 10.2 per 100,000
*Connecticut = 6.1 per 100,000
*Rhode Island = 5.1 per 100,000
*New Jersey = 5 per 100,000
*Massachusetts = 3.9 per 100,000
*Hawaii = 3.5 per 100,000
Only Illinois and Maryland come close to Texas in terms of firearm deaths by percentage, likely as a result of half the guns recovered from crime scenes being imported from nearby states with less restrictive laws in Illinois and two-thirds of them in Maryland.
While it may seem disingenuous to include suicides in the firearm deaths being measured, the fact is that easy access to guns, specifically handguns, is closely linked with higher suicide rates and more successful attempts. A Stanford study found that men who owned hand guns were eight times more likely to die from suicide than those who didn't, and women were a whopping 35 times more likely. The study covered 26 million people over a 12-year period.
The easier it is to get guns, the more people tend to die from them. That's what the numbers show.
To learn more about gun violence in Texas, visit the RA News Gun Violence Watch page.