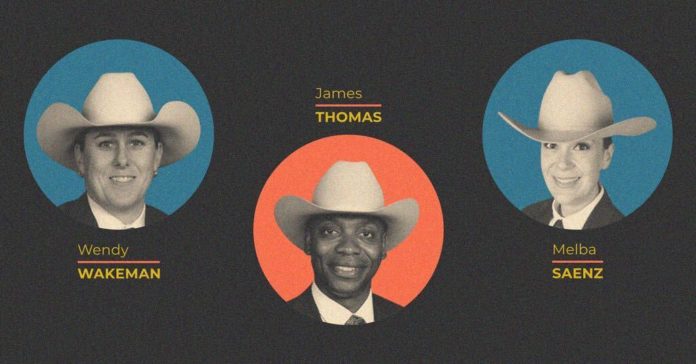 Two women recently broke through the upper echelons of the male-dominated Texas Rangers with their promotions to the rank of captain. Wendy Wakeman and Melba Saenz are the first women to reach captain level in the almost 200 year history of the storied law enforcement agency.
James Thomas was also prompted to the rank of captain. He is the first-known Ranger in modern history to hold a doctorate degree and the fourth African American to achieve the captain rank.
"These three talented, dedicated professionals have excelled in positions throughout their DPS careers and have exhibited tremendous commitment to the people of Texas and our law enforcement partners," said DPS Director Steven McCraw. "I have the utmost confidence they will continue to make the department proud in their new roles within the Rangers."
The promotions of Thomas and Wakeman are effective Sept. 1. They will both be stationed at Austin headquarters. Saenz was promoted May 15. Her duty station is Edinburg. All three held the rank of lieutenant prior to their promotions.
This is actually the second history-making move for Wakeman, who has been with the Texas Department of Public Safety for 22 years. She joined the Rangers in 2008 and became the agency's first female lieutenant in 2014.
Saenz joined the Texas Rangers in 2008 and was promoted to lieutenant one year after Wakeman.
There are only four women within the Ranger ranks — Wakeman, Saenz and two others.
Doug Swanson, author of the book "Cult of Glory: The Bold and Brutal History of the Texas Rangers", told the Dallas Morning News that while this year's promotions of women were a long time coming, they're a welcome change.
"I think the Rangers are moving in the right direction," Swanson said. "They've just been really slow. Going back many, many years, I think the first female Rangers were hired and appointed in 1993. There were two women appointed, and that didn't go well. There was a lot of resistance from a lot of the male Rangers who had been around a long time. That was what, 27, 28 years ago? We're finally getting some captains. That's a great thing, it's just taken a long time."
Thomas graduated from the DPS Academy in 2002. In 2015, he joined the Texas Rangers in El Paso. Three years later, he was promoted to lieutenant and was stationed in Waco. He earned his doctoral degree in educational leadership from Lamar University
Since George Floyd's killing and the protests that followed, there have been calls for striking  the Texas Rangers' name from the Texas DPS because of its racist and xenophobic past. Rangers rounded up runaway slaves, executed Tejanos during the Porvenir massacre and helped Texas resist desegregation.