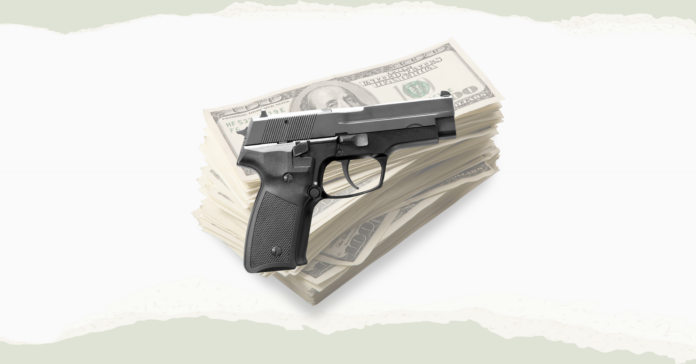 The gun industry cost Texas an extra half billion dollars this year, and it's just a part of the effect they have on everyone's lives.
In the previous legislative sessions, the Republican-controlled government banned banks from doing business with Texas cities and towns unless the banks asserted they don't discriminate against guns. Reminder: guns are not people and cannot be discriminated against. That bit of political theater has already dearly cost everything from airport construction to school district funding. One study found that in the eight months since the bill's passage, cities and towns have lost up to $500 million in funding thanks to interest rates.
As mass shootings increased, some financial institutions such as Citibank reconsidered how much business they wanted to do with the gun industry. The result was a push by the gun lobby to punish them. It's no surprise. Gun lobby money is a major factor in Texas. Open Secrets found Texas ranks second in amount of money spent on the state government level from gun sources, more than $3 million since 2015. Texas representatives in the 117th Congress took in more money from gun groups than legislators from any other state. The National Rifle Association famously held their convention in Houston this year just days after the Robb Elementary Massacre, an event that turned into a political litmus test for many top-ranked Republicans.
That money has been well spent. Multiple bills turning Texas into a "Second Amendment sanctuary" (Reminder: guns are not people and do not require sanctuary) passed in the 87th Legislature, including one that allows carrying a weapon without a permit. Though Governor Greg Abbott promised some action after the Uvalde shooting, and Sen. John Cornyn helped push through a minor gun reform bill, little has been done other than to scapegoat the mentally ill.
It's worth thinking about how much of Texas residents' lives the gun industry controls. School is about to be back in session, and that often means buying a new backpack. Many Texas school districts now limit which backpacks a child can wear, usually mandating clear backpacks. The trend was put in place after the Columbine shooting and has remained an alternative to gun control to this day despite the increasing numbers of mass shootings in schools. It's mostly been a placebo for real action, and survivors of school shootings have actively mocked the regulation.
Beyond that, the power of the gun lobby is most evident in how much they influence who gets elected. Over the last twenty years, pro-gun groups have spent nearly $200 million on political donations. Conservative politicians are expected to pledge allegiance to guns, leading to a trend where they fire weapons in ads. Sen. Ted Cruz once famously ate bacon that was cooked on the muzzle of a rifle he had just fired.
As gun money and conservatives become more symbiotic, it ties the gun lobby in with a host of other problems. The push for stricter border policies, anti-trans legislation, voting rights rollbacks, reproductive choice restrictions, and the Medicaid expansion would not be possible without the security Texas Republicans get from gun lobby support. Gun money makes all that possible.