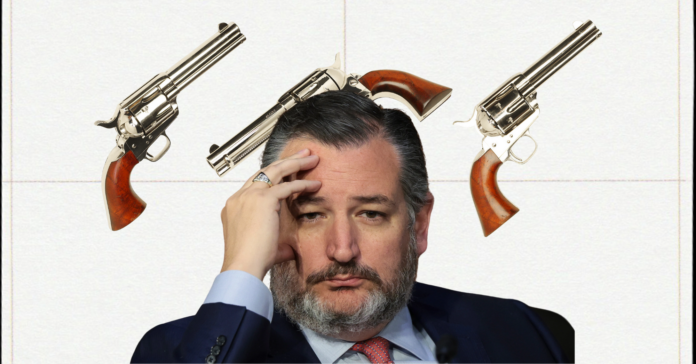 In the aftermath of the deadliest school shooting in Texas history, U.S Senators Ted Cruz (R-Texas) and John Barrasso (R-Wyo), introduced legislation that will dedicate over $38 billion to make schools and their communities safer.

According to an official press release from Ted Cruz's office, the Safe Kids, Safe Schools, Safe Communities Act of 2022, will include funding school security and doubling the number of school resource officers in America's schools, investing in school mental health professionals, and reducing gun violence.

The funds would be taken out of the unspent American Rescue Plan money.
"There have been far too many school shootings in this country, and it is past time for Congress to do something to address this problem," Cruz said.

Senators Chuck Grassley (R-Iowa), Tim Scott (R-S.C.), Cynthia Lummis (R-Wyo.), and Mike Crapo (R-Idaho) sponsored the legislation.

The legislation includes:

– A $200 million budget to improve the National Instant Criminal Background Check System (NICS), requiring an audit before purchasing or owning a firearm.

– A $150 million budget to hire additional federal prosecutors.

– A $29 million budget for safe school task forces

– A $75 million budget to provide child-safety gun locks for every handgun in the U.S.

– Research on the causes of mass shootings and school violence prevention.

– Reallocate $17.5 billion in unspent American Rescue Plan education funds to enhance school safety including by doubling the number of trained school resource officers nationwide and $10 billion in grants to hire 15,000 school mental health professionals for K-12 schools.
"We all want to help prevent tragedies like what we saw in Uvalde. My focus has always been on mental health and increasing school safety," said Sen. Barrasso.

This is the overall sentiment in the Republican party, an increased focus on mental health and school security while leaving almost intact their gun law policies on the pretense of protecting the second amendment rights of all Americans.

"Our legislation would not only help prevent school shootings, but do so while still protecting the constitutional rights of millions of law-abiding Americans," said Sen. Ted Cruz.