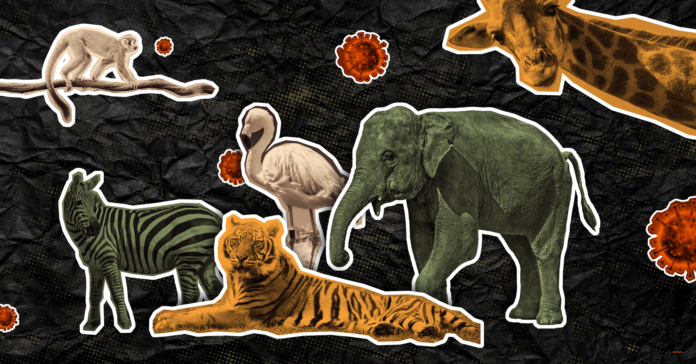 We know Texas is the Great American keeper of exotic animals. Their presence is sometimes edifying, sometimes economically beneficial. But their presence is also fraught with difficulties and danger. Big cats are a prime example.
From abandoned and escaped tigers wandering the Houston and Dallas suburbs and the Rio Grande Valley to "mayhem and murder" involving an exotic-animal sanctuary and its former self-promoting operator, captive tigers have become a popular subject in the Lone Star State.
The issues of owning or possessing these big cats and their well-being have been highlighted by the Netflix "Tiger King" documentary series, which has almost guaranteed a captive audience with the shelter-in-place rules in effect in many states. The series chronicles the ill-fated rise of Texas animal sanctuary owner Joe Exotic, or Joe Maldonado-Passage (formerly Schreibvogel), and his bitter dispute with the CEO of the Florida animal sanctuary Big Cat Rescue.
While Joe Exotic's sensational story makes for time-occupying entertainment, the plight of tigers and the threat to public safety continue.
"It is never safe to keep tigers or other dangerous wild animals, such as primates, as pets," wrote Lauren Loney, Texas state director at the Humane Society of the United States, in an email. "Wild animals, like tigers, can never be 'tamed' and keeping wild animals as pets threatens public health and safety as well as animal welfare."
She said the average pet owner isn't able to provide the proper care that wild animals require, and they can inflict serious injury or even death as well as spread lethal diseases.
HSUS reports that there have been more child fatalities and injuries caused by captive big cats in Texas than in any other state.
"Private ownership of tigers and other exotic wildlife is a major issue and creates extremely dangerous situations for both the people and animals involved," wrote Kari Streiber, senior director of marketing and communications with the Dallas Zoo media team, in an email to Reform Austin. "Tigers should never be kept as pets or in facilities not held to the highest standards of animal care and welfare."
And speaking of disease, a tiger at the Bronx Zoo recently tested positive for COVID-19, perhaps indicating that another species is susceptible to the virus.
"In light of the news from the Bronx Zoo, all of our zoologists, managers, nutritionists and veterinarian staff are required to wear masks and personal protective equipment anytime they are working with our mammals, their food, or anything else the animals may come in contact with," Streiber said. "We are also in touch with officials at the Bronx Zoo and continue to follow the developing situation there."
According to the World Wildlife Fund, there are nearly 3,900 tigers in the wild and approximately 5,000 in captivity in the United States.
Allegedly, there are more tigers in Texas than in the wild, but that has not been confirmed. The Austin American-Statesman reported in 2018 that some estimates indicate there are possibly 2,000 in Texas. "[Many are] in backyards and most not registered with the state, which is believed to be the second-largest tiger population in the world behind India."
Loney said the number of big cats living in Texas is unclear because of the lack of a statewide dangerous/wild animal database and their owners as well as the ineffectiveness of current laws, which she said, permit counties to implement their own enforcement mechanisms.
"It's clear that the patchwork of city and county ordinances across the state are not sufficient to address the public health and safety or the animal welfare concerns that are inevitably going to arise when private individuals keep tigers and other dangerous wild animals as pets," she said.
Legislation to combat this problem has been introduced. During the last legislative session, state Sen. Joan Huffman (R-Houston) and state Rep. Eddie Lucio III (D-Brownsville) sponsored Senate Bill 641 and House Bill 1268, respectively. The bills sought to make it illegal to own a tiger or wild animal considered dangerous. The offense would have been punishable by a $4,000 fine and up to a year in jail. Research facilities and animal sanctuaries would have been exempt.
"There is a robust industry in the U.S. for human/tiger interactions (as you saw in 'Tiger King') and this is one of the reasons why the Humane Society of the United States strongly supports the Big Cat Public Safety Act, which is federal legislation that would prohibit these sorts of interactions between people and big cats," Loney wrote.
The original federal bill prohibited "any person from breeding or possessing prohibited wildlife species (i.e., any live species of lion, tiger, leopard, cheetah, jaguar, or cougar or any hybrid of such species)," indicated a summary posted on Congress.gov. But the legislation was reintroduced in 2019 and revised to restricting "direct contact between the public and big cats."
"People fail to consider that when fully grown, tigers and other big cats or primates, for example, are extremely dangerous wild animals that will not lose their natural wild instincts — even if raised with human contact," Loney said. "They also don't understand the type of care that tigers need to live healthy lives in captivity or that, ultimately, no wild animal should be forced to live in captivity for the amusement of humans."