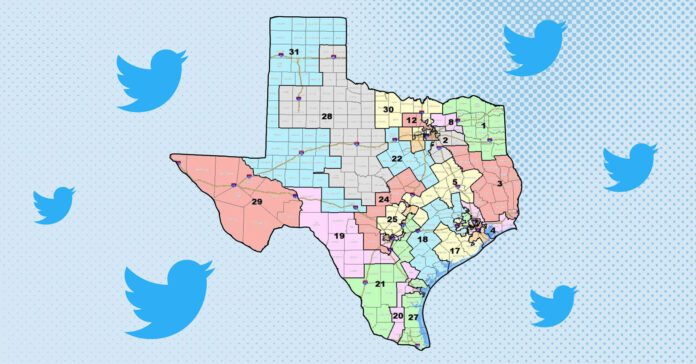 After the first draft of new district lines for the Texas House was unveiled on Thursday, there was a deluge of reactions by affected Democrat and Republican lawmakers, none all too positive.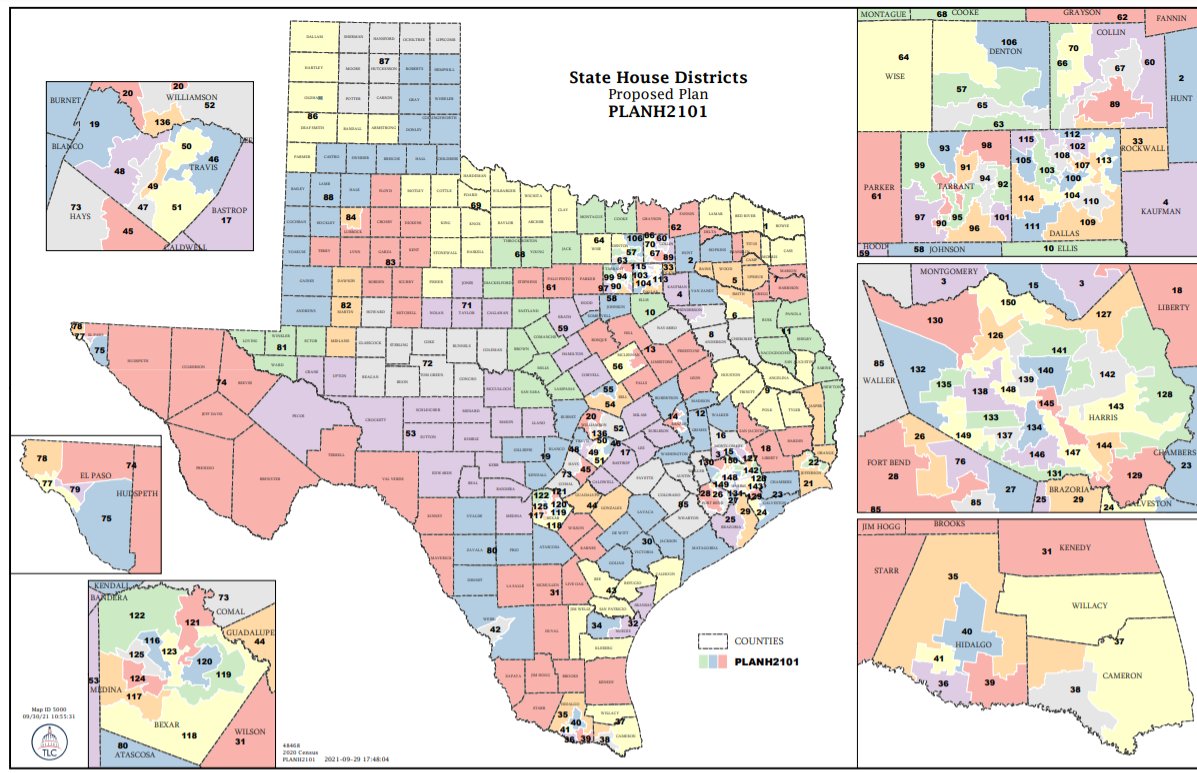 On Wednesday, it became clear not every member of the lower chamber was privy to this version of the map before it went public. Several Democrats, including one on the House Redistricting Committee, clarified they had not yet seen it when Quorum Report editor Scott Braddock tweeted House members were already seeing the map.
Mexican American Legislative Caucus (MALC) Chair Rafael Anchia (D-Dallas) tweeted the first reaction to the new map:
The following incumbent members were drawn into the same district as another incumbent per Texas Legislative Council: Kyle Biedermann (R-Fredericksburg) and Terry Wilson (R-Marble Falls) in House District 19, Jacey Jetton (R-Richmond) and Phil Stephenson (R-Wharton) in House District 26, and Claudia Ordaz Perez (D-El Paso) and Lina Ortega (D-El Paso) in House District 77.
In the case of state Rep. Biedermann, he says he already has a home in New Braunfels, which is in the redrawn House District 73 that covers Hays and Comal County. Sophomore state Rep. Erin Zwiener (D-Driftwood) currently lives in the redrawn district, which leans strongly Republican and would be Trump +37. Zwiener told the Texas Tribune she is "hoping that there's some space to fix it" but was not sure. And unlike Biedermann, she is not prepared to move to where her district has been redrawn.
More factious is Fort Bend House District 23 as Texas Tribune's Cassi Pollock reports:
For the El Paso redrawn House District 77, both incumbents blasted the new maps:
Another member of the El Paso delegation, Art Fierro (D-El Paso), reacted:
For other districts where two members reside, at least one of them is not coming back to the Texas House in 2023. In the following pairs, those with asterisks are retiring or running for a different office:
House District 7: Jay Dean (R-Longview) and Chris Paddie* (R-Marshall)
House District 9: Trent Ashby (R-Lufkin) and James White* (R-Hillister)
House District 12: Kyle Kacal (R-College Station) and Ben Leman* (R-Anderson)
House District 61: Phil King* (R-Weatherford) and Glenn Rogers (R-Graford)
House District 63: Michelle Beckley* (D-Carrollton) and Tan Parker* (R-Flower Mound)
House District 108: John Turner* (D-Dallas) and Morgan Meyer (R-Dallas)
As to which regions gained districts because of population growth, North Texas and the Houston suburbs were the biggest winners.
Collin County gained a 6th district (HD-060) currently represented by Rep. Rogers, Denton County gained a 5th district (HD-057), and Fort Bend County gained a 5th district (HD-076), all three districts of which no current incumbent resides. In Denton County, House District 64 is now no longer entirely contained within Denton County lines but also pulls population from neighboring Wise County. Montgomery County gained a 4th district (HD-018) that is adjoined to adjacent Liberty County and San Jacinto County and stretches to Hardin County.
Travis County gained a 7th district (HD-019) with neighboring Burnet County and Blanco County and stretches to Gillespie and Kendall County.
Hays County gained a 2nd district (HD-073) which is adjoined with neighboring Comal County.
As to which regions lost districts, East Texas lost one district (HD-057) currently represented by Rep. Ashby. El Paso County loses House District 76 currently represented by Rep. Ordaz Perez but gains House District 74, which is currently represented by Rep. Eddie Morales (D-Eagle Pass), stretching from Maverick County to pull some people from east El Paso to get within the 5 percent margin from the new ideal population of 194,303.
Similar to the Congressional maps as proposed by Senate Republicans, the state House map reduces minority-majority districts. Majority-Hispanic House districts dropped from 33 to 30 and majority-Black House districts drop from 7 to 4.
Many Democrat lawmakers pointed that out:
Early analyses suggest the Texas House has gone from a majority of 76 seats Biden won in 2020 to 82 seats Trump won under the new district lines. Texas Observer's Justin Miller noted Sen. John Cornyn won reelection by more than 50 percent in 85 of the redrawn seats, up from
These House maps will be heard in the House Redistricting Committee on Monday at 9 AM.
Texas Senate Hearing on Congressional Maps
Senate Bill 6 author Joan Huffman repeated several times in this committee hearing and in past ones that "we drew these maps race-blind." Brennan Center voting rights attorney Michael Li later explained while this might insulate Texas Senate Republicans from some Voting Rights Act claims, it is not sufficient to fulfill the obligations to maintain communities of interest together and maintain minority-majority opportunity districts.
Li further testified the Congressional maps as they are right now are vulnerable to claims of Voting Rights Act violations in North Texas for the redrawn TX-33, which currently is a Latino opportunity district, and in Fort Bend County, where Sugar Land is split into three districts including one where TX-7 comes down from Houston and scoops up some minorities in Fort Bend.
The main criticism for the map was reserved for what happened in Harris County to two of the African American Congressional members. Rep. Sheila Jackson Lee (TX-18) was drawn out of her district and paired with Rep. Al Green (TX-09) in the Texas' 9th Congressional District. Sens. Carol Alvarado (D-Houston), Borris Miles (D-Houston) and John Whitmire (D-Houston) all referenced and read a letter that they, Sen. Royce West (D-Houston), and the two affected congressional members wrote to Huffman rebuking the map as discriminatory and separating communities of interest that have been kept intact for 50 years.
Huffman responded that the Republican Texas Congressional delegation who drew the first version of the map before she made some changes used a commercial software that did not have the home addresses of incumbents. She claimed it was likely unintentional that the two were paired together and welcomed proposals to fix it. Her response also suggested she did not consult any Democratic incumbents and her point of contact with Republican incumbents was only through their attorney, Chris Gober.
Similar to the Texas House map, Fort Bliss and the El Paso International Airport was taken out of an El Paso district to join a district that stretched the Southern Texas-Mexico border. The redrawn Texas' 23rd Congressional District, which takes that piece of El Paso, drew criticsm from Sen. Cesar Blanco (D-El Paso), who claimed the military base creates a community of interest and is an economic enginge that should not be separated from its El Paso anchor. Huffman agreed it was a community of interest and welcomed proposals to fix it.