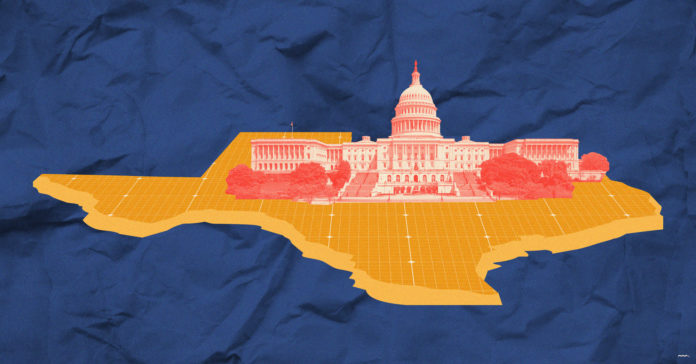 One of Texas Democrats' top election priorities was to flip enough state house seats to have a seat at table during redistricting next year.
Since that didn't happen, Democrats are preparing for a long, slow battle for fairness in redistricting Congressional and state Senate and House districts against Republican attempts to disenfranchise Black, Latinx and other minority voters.
"With Republicans in control, they are going to do what they have always done in the past," said Matt Angle, Matt Angle, director of the Lone Star Project, a Democratic research and political support organization. "They will draw gerrymandered lines that are so egregiously discriminatory that they will be rejected by the courts."
"Flipping the House in time for the release of the Census was really, really important for Democrats, Angle said.
Redistricting is a once-a-decade process that occurs across the country to adjust for population gains and losses based on Census counts. After the 2010 Census, Texas gained four new Congressional seats. Three are currently held by Democrats: Marc Veasey, District 33, Filemon Vela, District 34 and Lloyd Doggett, District 35. Republican Brian Babin holds the District 36 seat.
Texas stands to gain additional Congressional seats, based on estimated population growth of about 4 million residents since the last Census in 2010. Those gains are largely the result of the booming Hispanic population, which expanded by 2 million in the past decade and is on track to become the largest demographic group in the state by the mid-2021.
Texas is expected to pickup at least two Congressional seats in the redistricting process. The number of state Senate and House seats remain stationary, at 31 and 150, but district boundaries are redrawn to reflect population shifts.
Ordinarily, Census data must be delivered to the Texas Legislature by April 1 of the year after the Census was taken. But it's possible that the Census could be delayed for a couple of reasons, which would push redistricting out further, possibly beyond the regular session of the Texas Legislature.
Since the U.S. Supreme Court agreed last month to hear arguments on President Donald Trump's order to exclude undocumented immigrants from the count, a pending decision could delay the Census delivery. The high court previously ruled against Trump's plan to include a citizenship question on the Census survey.
The court, with new Justice Amy Coney Barrett onboard, is expected to hear arguments on excluding undocumented immigrants on Nov. 30 and indicated that it would rule quickly. Should the court uphold Trump's policy, Texas stands to lose a potential third additional Congressional seat and about $300 million per year in federal revenue for schools, health care over the next 10 years due to an undercount.
Yet, Democrats and voting rights advocates hold out hope that the Biden administration would re-open the census count. Census Bureau officials have also cast doubt on their ability to produce data before Trump leaves office in January, the New York Times reported. At the earliest, the data might be ready by the end of January and possibly as late as mid-February.
"There is a possibility that the Biden administration will re-open the Census to get an accurate count since the Trump administration shut it down early," said Domingo Garcia, national president of the League of United Latin American Citizens (LULAC) and a Dallas attorney.
Reopening the Census could delay its mandatory delivery date of April 1, which could disrupt the statutory process of redistricting. If Congressional redistricting is not completed during the regular legislative session, it could continue in a special session. Texas senate and house redistricting would fall to the five-member Legislative Redistricting Board.
Failure to achieve a plan through those measures would push the task to the courts. Even if lawmakers eke out a new plan, it will undoubtedly end up in court.
"Every 10 years since 1970, we have fought this out in court," Garcia said.
LULAC and other voting rights groups hope to see Congressional districts drawn to reflect the huge growth in the Latinx population.
"Texas should get two or three majority Latino seats – one in North Texas, one in the Houston area and one in South Texas," Garcia said.
But with Republicans in control, Democrats continue to be denied the number of Congressional seats they should have based on population and voting results.
"Hillary Clinton won 44 percent of the vote in 2016, Beto O'Rourke got 48 percent in 2018 and Joe Biden got 47 percent this year," Angle said. "At very least, Democrats should have 43 percent, which is 16 seats, but they only have 13."
Those elections occurred after the 2011 redistricting maps drawn by lawmakers were determined to be discriminatory and replaced by court order with interim maps, which the state made permanent in 2013. But allegations of discrimination of against minority voters continued.
Court battles over the 2011 and 2013 redistricting maps dragged on through 2019, with key rulings in 2017 that four Congressional districts drawn in 2011 were "unconstitutional racial gerrymanders" and that the state deliberately and illegally "packed and cracked" minority voters in one district in the Dallas-Fort Worth area to dilute their voting strength.
Just as Democrats and voting rights advocates are preparing for battle over legislative districts, Republicans are preparing to defend Republican control of power in Texas.
Texas Republican Party Chair Allen West is urging Republicans against compromising with Democrats.
"It is critical that the progressive socialist left has no influence and impact on the redistricting process," West told the Texas Tribune.
The one advantage Democrats and their allies will have is a Democratic presidential administration and Department of Justice.
"The Biden administration will use their leverage to help the Democrats but with the rules not on their side and the process bent to favor the Republicans, their hands are mostly tied," said Brandon J. Rottinghaus, professor and Pauline Yelderman Endowed Chair of political science at the University of Houston.