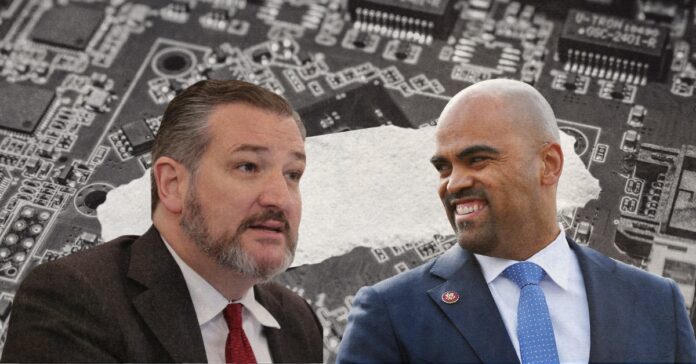 Despite staying on parallel roads while voting on various bills, Sen. Ted Cruz (R-TX) and his 2024 challenger US Rep. Collin Allred (D-Dallas) agree on one thing: semiconductors are good for Texas.
Members of Congress across political parties are seeking to quickly bypass environmental requirements for new investments in Texas's semiconductor industry, something industry backers say will exceedingly increase competitiveness — a measure led by Texans for their state's progress.
The measure was recently added to the Senate's annual defense bill by Cruz and his Senate partners.
"This language will help Texas, already the nation's leading chip producer, continue to grow this burgeoning industry and bring more jobs to the Lone Star State while boosting America's economic and national security," Cruz said in a statement.
The new legislation follows the CHIPS and Science Act signed into law last year. U.S. Sen. John Cornyn (R-TX) was a prominent leader that created federal grants to promote domestic semiconductor manufacturing.
Cruz voted against the CHIPS and Science Act in 2022, despite wanting to boost the state's semiconductor industry. His concerns surrounding the legislation had to do with companies receiving grants directly, which would invite "cronyism and corruption."
In addition to Cruz, all but two Republicans from Texas in the House U.S. Reps. Michael McCaul of Austin and Kay Granger of Fort Worth, voted against the bill. The two representatives have repeatedly warned about the growing technological competition against China.
Semiconductors are crucial for a wide variety of technological advances in products such as cellphones to electric vehicles, as of right now the industry is dominated by Taiwanese, South Korean and Chinese producers.
However, Congress is working on increasing technological competitiveness that would allow the U.S. to become the center in the global semiconductor industry.
The Building Chips in America Act would exempt some projects funded by the CHIPS Act from some environmental reviews under the National Environmental Policy Act. The act would put the Commerce Department to be in charge of environmental reviews for other projects and will speed up the process for reviews by forgoing the need for duplicate studies from other federal agencies.
Environmental reviews under the National Environmental Policy Act, required proper documentation of government projects for any potential environmental impacts. These reviews include a study on an alternative project that could have a lesser impact on the environment, a public comment period and might even require analysis from other agencies affected by the projects.
NEPA's environmental reviews which can take anywhere from months to years have been criticized by members from both parties. These reviews can hold up critical infrastructure, Republicans have criticized these hurdles for being a road blocker for new oil and gas projects.
Various Democrats say that the climate and infrastructure goals set by the Biden administration can be delayed due to the reviews needed for robust development of renewable energy.
"This bipartisan bill is a common-sense change that will ensure that the CHIPS Act delivers on its promise and these critical projects can get approved," Allred said in a statement.
Environmentalists are uncomfortable with shortening the NEPA review periods.
In May, almost 80 Democrats in the U.S. House wrote to party leaders and President Joe Biden to oppose permitting any reform that will shorten NEPA review periods.
To introduce the Building Chips in America Act in the House, Allred and McCaul joined various members from both parties.
In contrast to Cruz's often hostile, partisan style, Allred is making a bipartisanship and moderate effort in his campaign to unseat Cruz in the 2024 Senate race.
In Texas, companies such as Texas Instruments, Samsung, X-FAB and NXP Semiconductor have already announced billions of dollars in projects. In addition to that, Texas Instruments announced a new $30 billion fabrication plant in Sherman and on the other hand Samsung plans to build a $17 billion plant in Taylor.
According to CNBC the Semiconductor Industry Association, more than $61 billion is bound for Texas, potentially creating more than 8,000 jobs, from the $200 billion in investments announced since the CHIPS and Science Act was passed.
Sen. Mark Kelly (D-Arizona), introduced the Building Chips in America Act to be added on to the National Defense Authorization Act as an added amendment and was joined by Cruz to push for it. The bill was passed in the Senate, just before Congress broke for recess in August.
In their version of the defense act which was also passed in July, the U.S. House added various right-wing priorities, including limiting gender-affirming care and banning service members from being reimbursed for abortion-related travel.
In September, negotiators from both chambers will work on resolving the difference between the two versions.
The House version of the bill only revived four Democratic votes, whereas the Senate's version passed easily on a bipartisan basis.
Traditionally, the defense policy bill is the most bipartisan piece of legislation Congress passes every year.