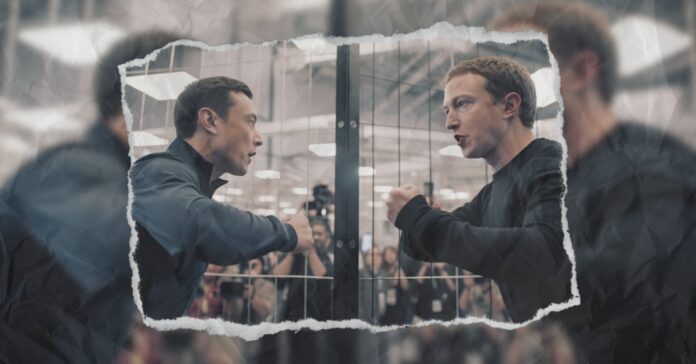 Maybe a tech billionaire cage match is all we need to meet our self-fulfillment needs.
Mark Zuckerberg is ready to fight Elon Musk in a cage and this is a match we all want to see. After Musk tweeted that he would be "up for a fight" with the Meta CEO, Zuckerberg posted a screenshot of Musk's tweet with three powerful words: "send me location".
In the tweet, Musk was replying to a user who tweeted about Meta's rumored Twitter competitor known as Threads.
Alex Heath, editor of The Verge published a story on Threads on Twitter. The tweet received one reply from Musk with the words "Vegas Octagon". He then added "I have this great move that I call "The Walrus", where I just lie on top of my opponent & do nothing".
It's been days where Musk has been mocking Meta for its rumored competitor, he even has tweeted things like "Zuck my 👅".
But, when it comes to the question of who would win in a fight between Zuckerberg and Musk, the answer is difficult. Zuckerberg is younger and he actually trains and knows Jiu Jitsu. On his Instagram page he posts about doing crazy physical challenges and beating people in Jiu Jitsu training. Musk, on the other hand is taller and heavier, and has claimed being into "real hard-core street fights" in his youth in South Africa.
Musk has even claimed to have knocked people out.

"Around age 16 is when they stopped trying to beat me up because it didn't work out well for them. They tried, and I knocked a guy out," said Musk. "One hard punch in the face, you'll knock a guy out."
Well, maybe the question of who would win doesn't matter. Maybe it's just a thing that humanity must see regardless of the odds. Two billionaires fighting in a cage is a miracle waiting to be seen.