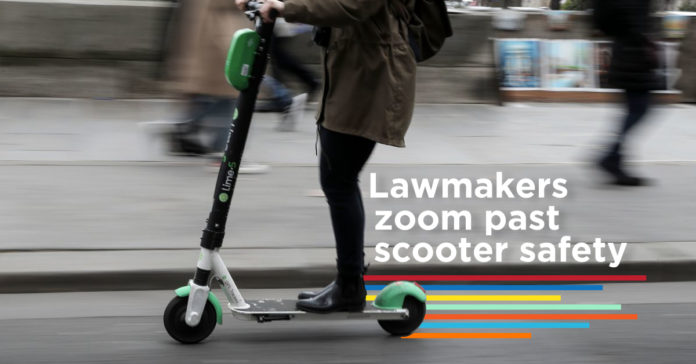 Across Texas over the past year, several companies have swooped down on cities—including San Antonio, Dallas, Austin, and El Paso—with fleets of e-scooters, leaving officials scrambling to pass ordinances to regulate this new transportation service. Companies like Bird Ride and LimeBike contend that their scooters provide necessary solutions to congested highways and roads, but local government is often left picking up the pieces from clashes over best safety practices and the free market economy.

To use a scooter, the rider simply has to rent one through a mobile app, pay $1 to unlock the scooter, and pay an additional 15 cents per minute. The service will drop off a scooter to a rider, and allows users to park the scooters virtually anywhere when done riding. And with Bird Ride implemented in 100 cities worldwide, the ease in which anyone can rent a scooter is causing local governments to quickly come up with solutions to prevent scooter-littered streets and parks.

Similar to rideshare services like Uber and Lyft, the scooter companies would rather ask for forgiveness rather than permission, bypassing lengthy processes of waiting for officials to come up with city-led plans for a dockless mobility service. Once multiple fleets of scooters arrived in Austin, city council members worked tirelessly to pass ordinances prohibiting leaving scooters or bikes on sidewalks and streets until permit processes could be put in place.

In El Paso, local officials ordered the confiscation of any Bird scooters in town after the California-based company deployed scooters near downtown and college campuses. Likewise in Dallas, officials requested scooter companies to self-regulate by tracking their fleets better, but were fearful of any regulatory fees that may cause the companies to withdraw their services from the city.

These issues create a challenge to local officials: where do they draw the line between public safety versus profiting as a result of companies investing in solutions for local infrastructure? David Estrada, the chief legal officer for Bird Ride, says that scooters provide a needed resolution for heavily-congested streets. "The only way that we can solve this problem is if we have enough of this alternative public transportation on the road," Estrada said. "If cities want to solve traffic they need to embrace this type of solution. If they over-restrict it…we are choosing cars. We need to choose less cars."

However, one main reason that cities regulate scooter companies is due to safety concerns and scooter-related injuries to riders, several resulting in fatalities. While there is a clear lack of data regarding scooter safety, the Center for Disease Control will conduct a study set to analyze incidents that occurred in Austin in the fall of 2018, at the request of the Austin Public Health and Transportation departments. Ford Vox for CNN wrote that "when health and safety is on the line, it is crucial that one company's legitimate right to come up with a handy new product…doesn't infringe on your right to move freely in public spaces without fear of serious injury."

To this point, the Coalition of Texans with Disabilities has advocated for stricter regulations as riders who frequently leave their scooters haphazardly strewn about city sidewalks and streets cause cumbersome mobility and safety issues for people living with disabilities. Senator Royce West (D-Dallas) filed SB 549 this past session, which focused on statewide regulations for e-scooters by limiting scooter riding on sidewalks, requiring scooter riders to be at least 16 years of age, and setting speed limits to 15 miles per hour. The bill died in committee and was not passed, leaving local city governments to battle with scooter companies over regulations.
In a landscape where many scooter companies simply pull their services from cities when faced with such regulations, the Legislature's role to ensure safety standards for Texans could be crucial. In 2016, Austin's attempts to regulate ridesharing companies Uber and Lyft were thwarted when the state Legislature overruled the local ordinance requirements, showcasing struggles between local and state control. When public safety becomes an issue in Texas cities where requirements differ for alternative transportation, the responsibility lies with the state to ultimately find a happy medium.