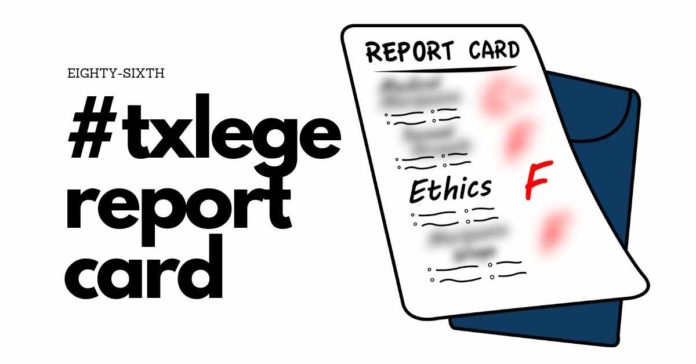 Ethics: F

Ethics reform legislation in this year's session of the Texas Legislature was an exercise in window dressing. Even though lawmakers curbed some of lobbyists' power in the legislative process, Texas continues to be the wild-west of the influence peddling industry.
Background:

Texas lawmakers response to ethics reform in this year's legislative session was primarily a reaction to federal lobbying scandals and technology's ever increasing influence on election outcomes.

Notable bills passed by legislators dealt with lobbyists working for foreign interests, "deepfake videos" and curbing the power of retired and ousted lawmakers—turned lobbyists have over the legislative process.

HB 1785: Requires lobbyists to disclose if they are or are required to be registered as foreign agents.
HB 2586: Loosens the rules for corporations and labor groups who engage in direct campaign expenditures and it repeals a provision which prohibits PACs created by corporations from making political contributions or expenditures from money collected through dues, fees, or other money that is collected as a condition of employment or membership in the organization.

HB 2677: Relating to certain restrictions on contributions and expenditures from political funds by a lobbyist.
HB 3044: Relating to political expenditures made by a corporation to finance the solicitation of political contributions to a political committee.
SB 751: Relating to the creation of a criminal offense for fabricating a deceptive video with intent to influence the outcome of an election.

What happened:

Texas' famously lax lobbying laws were given a bit of an update in this legislative session.
Long a requirement for their federal counterparts, state lobbyists now working for international clients will have to register as foreign agents.

Business and unions will now be allowed to spend money on political campaigns that was raised from dues, fees and other money collected as a condition of employment or membership in an organization.

Retired and ousted legislators who have become registered lobbyists in their second careers will have less influence on their former colleagues. Retired lawmakers- turned registered lobbyists will no longer be able to make a political contribution or expense to a candidate for office, current office holder or political action committees that support them.

The creation of a "deepfake" video published and distributed within 30 days of an election to influence the outcome will now be a criminal offense in Texas.