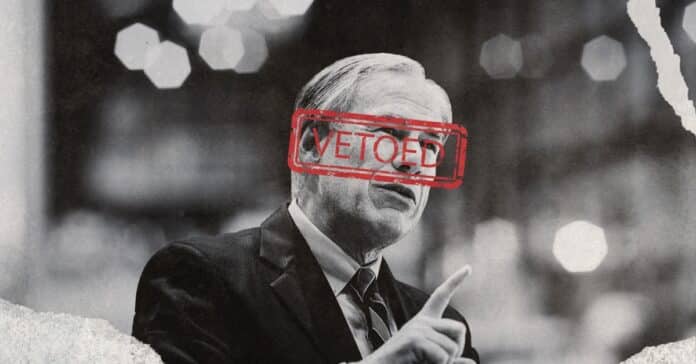 Governor Greg Abbott vetoed 76 bills last week, a massive number. It appears the reason is partially to push his school voucher program, which has thus far failed to find support in the Texas House.
The headline grabber is property taxes. The House and Senate remain locked in conflict on how a $12 billion property tax cut will look and have been unable to come to terms. Eager to pass the cut, Abbott made it clear that he will keep vetoing bills until the two chambers reach a compromise.
"At this time, the legislature must concentrate on delivering property tax cuts to Texans," he said in his veto proclamation.
However, there is another, equally vicious fight happening over school vouchers, and it looks like Abbott's veto may be weakening opposition in the House.
Many of the bills that were vetoed were from anti-voucher Republicans like Glenn Rogers (R-Mineral Wells). Like many rural Republicans, Rogers has been vocal about opposing Abbott's proposed Education Savings Account (ESA) school voucher program, believing it will strip funding of rural public schools and funnel it to wealthy suburban religious academies.
In total, three bills by Rogers were vetoed, and they all had coded pro-voucher language from the governor.
"The legislature must concentrate on delivering education freedom (emphasis ours) to Texans. This bill can be reconsidered at a future special session only after education freedom is passed."
"Freedom" has been the language used to sell vouchers, claiming that parents should be able to use taxpayer funds to send their children to private schools because public schools may not match their child's needs. Texans already have the right to switch to any public school they want in order to seek better services or programs, as well as homeschool or enroll in private institutions.
In reality, proponents of school vouchers have leaned on their desire to have more conservative, Christian options for students paid for by the general public. Bills to institute the ESAs have been light on regulating private schools to prevent discrimination or segregation.
During the regular legislative session, 24 House Republicans voted to prohibit funding ESAs. House Speaker Dade Phelan appears to be wavering in his opposition, or at least seeking a compromise. He announced a special committee on education opportunity and enrichment last week.
The committee will be chaired by Brad Buckley (R-Killeen), who previously tried to broker a deal on vouchers in the regular session by limiting them to disabled and special needs students. The inventive suggestion went nowhere as Abbott threatened to veto the bill if the bill was not broadened to include all students.
Noted Democratic opponent to vouchers, James Talarico (D-Round Rock) will also serve on the committee.
At this point, it's hard to tell if Phelan is trying to reach a deal for vouchers or holding the line. The Speaker has remained cagey on the issue, and while the committee features some pro-voucher members, it's not exactly stacked with them. Some insiders see it as a way to bypass opposition.
"They tried to use a bicameral commission on special education funding to get vouchers through the regular session but the House blocked it," one un-named advocate said, "and it looks like now they are effectively trying to remove that roadblock."