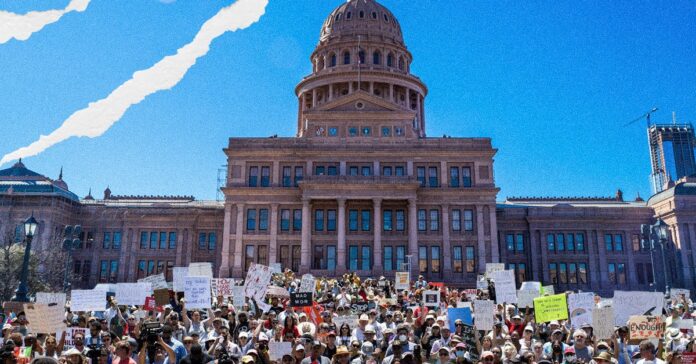 Governor Greg Abbott has vowed to spend millions of dollars this legislative session for "school hardening" to make Texas children safer. Meanwhile, the families of victims of the Robb Elementary School massacre in Uvalde continue to call for gun control Texas Republicans appear unwilling to consider.
There was only one point in the 2022 midterm elections where Abbott looked like he might actually be in trouble, and that was in the weeks after the Uvalde shooting. Challenger Beto O'Rourke publicly confronted the governor about the lack of gun control in the state and the polls reflect a loss of public faith in Abbott. Ultimately, Abbott did rally, but the specter of another shooting and its possible political fallout must be weighing on his mind.
With more than $30 billion in a budget surplus for the legislature to allocate this session, Abbott has promised $750 million in school security improvements. This includes everything from more mass shooting training to metal detectors in schools. Some of the funds would go to support mental health programs and telemedicine for students.
"That budget surplus is kind of most effectively used for one-time items, and so probably some of the school hardening programs and some other programs will be funded by the budget surplus," Abbott said in his State of the State speech last month.
The National Education Association and other experts have repeatedly called school hardening an ineffective way to combat school shootings. School safety should be matched with community outreach and dedicated legal efforts to keep guns out of the hands of violent individuals.
Certainly, the Uvalde families remain unimpressed with the administration's efforts. Groups gathered outside the state capitol on Tuesday as Texas Department of Public Safety director Steve McCraw testified to a House committee on school safety. Velma Lisa Duran, whose sister died in the attack, stood up in the audience and demanded action from both McCraw and the committee.
"How do you not have questions? This is insane; this doesn't happen in other countries, this happens in the United States of America!" she said. "You allow people to have assault weapons that belong in the military. The military!" she said. "People were obliterated! And we still have no protections in our schools. No wonder you love this job, y'all are surrounded by protection. … Nothing has changed. Shame on y'all."
Nonetheless, Abbott has remained firm in his opposition to any further gun control, specifically calls to raise the minimum age to buy a rifle from 18 to 21. The shooter at Uvalde purchased his gun legally just days after turning 18, and an increasing number of mass shooters are in their late teens or early twenties.
In an interview with the Austin American-Statesman, Abbott again reaffirmed his opposition to raising the age, promising instead an undetermined amount of effort to punish people with unlawful ownership of firearms.
"I want to make sure that if a criminal has a gun illegally, they're going to be spending at least 10 years behind bars, and that will get both the dangerous criminal and the guns off the streets," he said. "We can do two things at once, we can protect Second Amendment rights and at the same time find ways to get guns out of the hands of dangerous people."
To learn more about gun violence in Texas, visit the RA News Gun Violence Watch page.