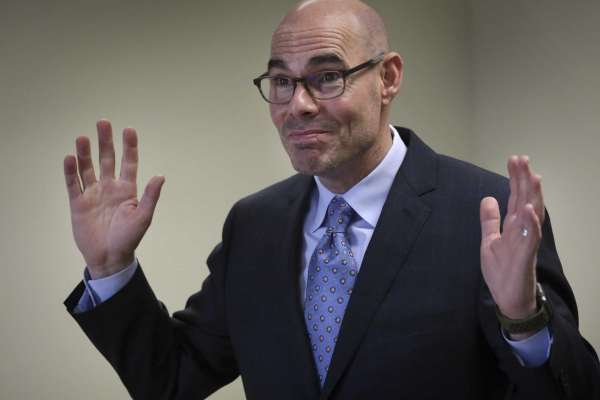 In public, Texas House Speaker Dennis Bonnen has always put the interests of incumbents before new challengers. But if a recent report from Michael Quinn Sullivan is true, private rifts within the GOP could spell trouble for legislators that don't meet Bonnen's standards.

Hardline conservative activist and leader of Empower Texans, Michael Quinn Sullivan, recently published a blog accusing Speaker Bonnen and GOP Caucus Chairman Rep. Dustin Burrows (R-Lubbock) of planning to target a group of Republican incumbents during the 2020 primary elections.

Sullivan, who met with the two legislators in Bonnen's office last week, alleged he was promised House media credentials in 2021 for Empower Texans' publication, Texas Scorecard, if the group would go after a list of 10 chosen Republicans in the 2020 primary elections.

"Spending political money was the issue, Bonnen said. Not just refraining from spending it against his pals. He wanted us to spend it against Republicans he saw as not being helpful," Sullivan wrote.

Sullivan has a history of criticizing Bonnen's leadership and effectiveness as Speaker of the House.

Sullivan also claimed, "Bonnen made a show of leaving his office so that Burrows…could actually read me the full list of names." The list included representatives Steve Allison (R-San Antonio), Trent Ashby (R-Lufkin), Ernest Bailes (R-Shepherd), Travis Clardy (R-Nacogdoches), Drew Darby (R-San Angelo), Kyle Kacal (R-College Station), Stan Lambert (R-Abilene), John Raney (R-College Station), Phil Stephenson (R-Wharton), and Tan Parker (R-Flower Mound).

Additionally, Bonnen was accused of offering "amusing (if slightly vulgar) comments about Reps. Michelle Beckley (D-Carrollton) and Jon Rosenthal (D-Houston)," when stating that he wished to fight against Democrats as well. The mentioned Democrats both won their seats in 2018 by narrow margins (Beckley by 2.4 percent and Rosenthal by 3.2 percent).

Last Friday, Bonnen sent a letter to House members detailing his side of the story. Bonnen admitted to meeting with Sullivan, but argued Sullivan's version of the exchange was "contrived," and an effort to "divide and ultimately destroy the Republican majority in the Texas House."

Despite these allegations, the Dennis Bonnen Campaign Fund gave $19,890 in polling contributions to Rep. Steve Allison's campaign.

Rep. Ernest Bailes, one of the targeted Republicans, told The Dallas Morning News he would be drafting a letter to Rep. Burrows to seek answers.

Reform Austin contacted Rep. Dustin Burrows' office, and they relayed he had no comment.

This situation is concerning to the GOP as they gear up for an important election cycle in 2020. In 2018, Democrats flipped 12 seats that were previously Republican strongholds. Republicans are becoming obstacles to themselves as internal strife drives a wedge between members of the same party.