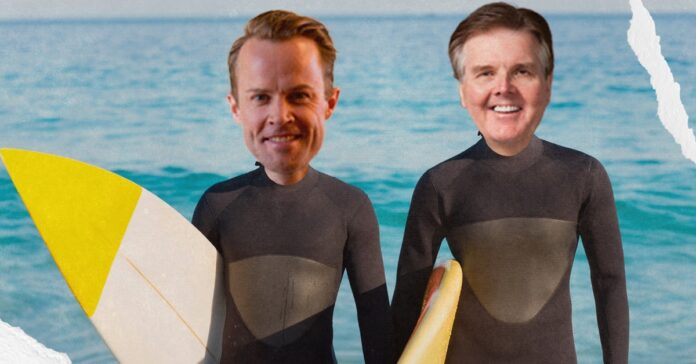 The Texas legislative session is entering its final month, and tensions between the House and Senate are heating up over major differences in policy-making. Lt. Gov. Dan Patrick has been attacking House Speaker Dade Phelan by name, calling him "California Dade" and mocking the House's property tax plan as "bad math" in an attempt to pressure the House to pass the Senate's version of the bill.
Patrick has also threatened to force a special legislative session if action stalls on some of his priority bills, including incentivizing the building of more natural gas plants and allowing the use of state dollars to send Texas kids to private schools.
The House, Patrick complained, has been slow to act on Senate priorities, and unless it picks up the pace in sending legislation to the upper chamber, some of those bills will die before they can even be considered.

House Speaker Dade Phelan, in an attempt to reduce the inter-chamber discord, has adopted a more conciliatory approach, highlighting legislation the House has already passed. On Tuesday, Phelan attempted to counter Patrick's criticisms using humor, by sharing a photo of himself standing shirtless in between two surfboards on Twitter.

"Stoked for some tasty waves on the Texas Coast this summer after #txlege hits its gnarly Sine Die!" Phelan tweeted, playing off his "California Dade" nickname while joking about his plans after the regular session's final day. 
After Phelan's humorous tweet, Patrick retaliated by showcasing his own sense of humor. He posted a badly photoshopped picture of himself on a surfboard, with the caption, "Glad to see "California Dade" has a sense of humor – gotta admit he's in better shape than me, but homeowning surfer dudes, especially those over 65 (and their surfer buddies under 65), all know the Senate's Homestead Exemptions are the better wave to ride."
Ultimately the tweet was another dig at Phelan for his House property tax plan.
"The House bill is just wrong on its math," Patrick said during a recent TV interview. "The Senate bill — seniors, if you're watching, our bill gives you $1,060 every year you homestead your home from 65 on."