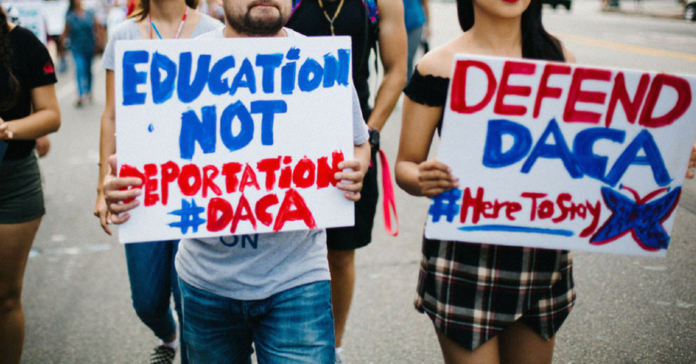 Last week brought a crippling blow to the Trump administration when the U.S. Supreme Court ruled against its attempt to repeal the Deferred Action for Childhood Arrivals program started by former President Barack Obama in 2012. Texas Attorney General Ken Paxton has since revived his stalled lawsuit against the program in hopes of another go at the high court.
Some have predicted Paxton's case will offer another opportunity to kill DACA. Others are saying it doesn't stand a chance.
DACA is the program that allows people who were brought to the United States as children to work and be exempt from deportation. Recipients, commonly referred to as Dreamers, have to re-apply for work visas every two years. Approximately 107,000 Texans are currently under DACA's protection. President Donald Trump attempted to repeal the program as part of his nativist immigration policies but faced immediate challenge from the courts. Ultimately, the Supreme Court ruled that Trump's attempted repeal was so capricious and arbitrary that it could not stand. Trump has since vowed to try again.
In the meantime, Paxton is dusting off his previously stalled lawsuit for a fight. In 2018, he and the attorneys general from nine other states filed suit claiming that former President Obama didn't have the authority to institute the program in the first place. A request to temporarily stop the program was denied because Federal District Judge Andrew Hanen said the states had waited too long. Nonetheless, Paxton has announced he is ready to go ahead.
"We are disappointed with today's SCOTUS decision, but it does not resolve the underlying issue that President Obama's original executive order exceeded his constitutional authority," his office said in a statement. "We look forward to continuing litigating that issue in our case now pending in the Southern District of Texas."  
Geoffrey A. Hoffman, clinical professor and director at the University of Houston Law Center Immigration Clinic, sees the ruling from the Court led by Chief Justice John Roberts as a sign of hope that is likely to affect Paxton's plans.
"Any discussion of the current district court litigation challenging DACA brought by several states must be seen in light of the Supreme Court's recent important decision," he said. "As the Supreme Court made clear, the Department of Homeland Security violated the Administrative Procedure Act when it acted arbitrarily and capriciously in its attempt to rescind DACA. This is irrespective of whether the initial DACA 2012 was consistent with the APA itself."
Hoffman notes and emphasizes that the judge in the Southern District of Texas already has declined to issue a preliminary injunction against the DACA program.
"Even if the district judge were to find the initial program was rolled out in violation of law, because it has been going on so long and so many hundreds of thousands of people have relied on it, I do not foresee DACA being enjoined in the short term."
Overall, Hoffman feels that Dreamers should be energized by the ruling, even if it wasn't a full constitutional blessing of DACA. The decision of the court affirmed that the Supreme Court does have review over DHS's handling of the program, as well as established that DHS violated standing American law. However, he stresses that mere judicial protection is not enough. Comprehensive immigration reform, such as the stalled DREAM Act, will be needed to fully protect immigrants who were brought to the country as minors. Those looking to apply to DACA in the wake of the Supreme Court's decision should still be seeking immigration legal counsel.
The main legal hope for the preservation of DACA now rests on two legal ideas. One, that former President Obama did have constitutional authority to begin the program even over state objections. Two, that so many American residents have now been affected by DACA that repealing it will simply do too much harm.
Despite Paxton's vow to fight anew, Hoffman does not see much merit in his case despite worry that it will put Dreamers in even more danger than the recently decided case did.
"To the extent plaintiffs are arguing that former President Obama was without any legal authority to enact DACA in 2012, in the first place, those arguments should fail," he says. "Former President Obama was on solid legal ground in terms of exercising prosecutorial discretion over a group of vulnerable immigrants who are a boon to our economy, do not have any serious criminal history, and who see themselves as part of the fabric of our American society. They came to the U.S. as young children and through no fault of their own."