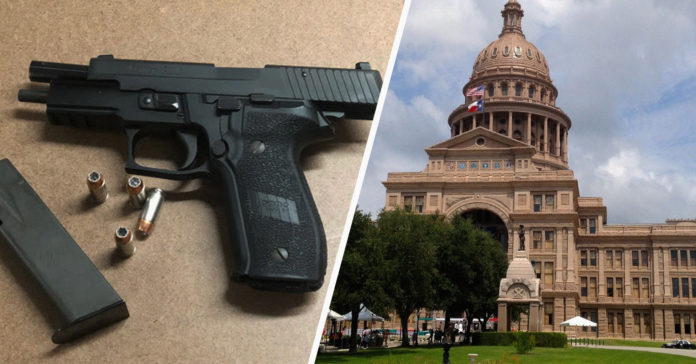 Short answer, yes you can. Despite the recent insurrection at the United States Capitol where supporters of President Donald Trump, many of whom were armed with everything from guns to incendiary, stormed the building and killed a police officer, the Texas Capitol will continue to allow visitors to carry firearms inside. In fact, they get their own expediated entrance.
The Texas Department of Public Safety declined to speak to us regarding gun policy, but they did release a statement to KVUE laying out the basics of carrying policy. Licensed gun owners will be allowed to have guns on them, concealed or openly carried, provided that they also have their ID and gun licenses on them. Obviously, improvised explosive devices and Molotov cocktails such as the ones carried by insurrectionists lasts week will not be allowed on Capitol grounds.
The right to carry arms in Texas government buildings was expanded last year so that that gun owners were allowed to basically carry anywhere that was not specifically prohibited. A law allowing mayors, commissioners, and sheriffs to ban guns from government buildings also went into effect last September but has no effect on state government buildings.
The wisdom of allowing guns in the Capitol is questionable. The FBI has already stated that mass protests similar to the one at the U.S. Capitol are expected in all fifty states. The 87th Texas Legislature has just begun and legislators are planning to take up many hot button issues that typically enrage reactionary right-wing elements such as police reform and gun control. This session will also decide the redrawing of state electoral districts, a process that may decide whether Texas sends a majority of Democrats or Republicans to the House of Representatives over the next ten years. There is plenty for conservatives to be potentially angry with, and a repeat of the incident on January 6 is a possibility.
The Texas DPS and the Austin Police Department have already increased security measures surrounding the Capitol in anticipation of more Trumpist violence.
"We do have reports of planned assemblies, and we are working with our law enforcement partners at DPS to ensure people are able to peacefully assemble and voice opinions, and we are able to keep people safe during that process," the department said in a statement to KXAN.
The Texas National Guard has also had a presence at the Capitol, and there has already been trouble. Samuel Hall, a member of Patriots for America, was escorted off the grounds for carrying an AR-15. It's unknown what infraction caused Hall to be removed from the scene considering that carrying is not actually prohibited. Another group, the Southern Patriots Council, have also been on the grounds heavily armed. The group's Facebook page identifies them as a pro-Confederacy organization, which fits in disturbingly with the attempted coup actions this month.