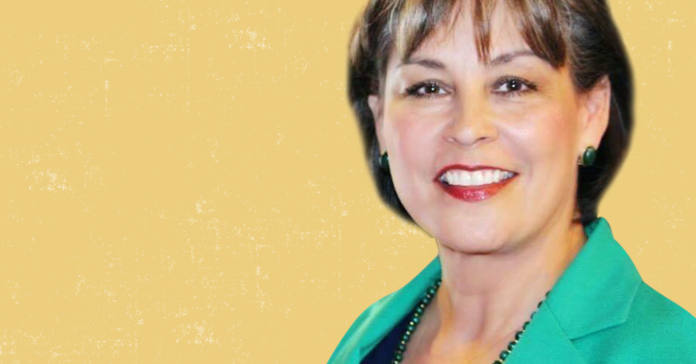 Gov. Greg Abbott, U.S. Sen. John Cornyn (R-Houston) and the head of the Texas Republican Party have joined the growing bipartisan chorus of calls for the resignation of Bexar County GOP Party Chair Cynthia Brehm.
In a post that has since been removed by Facebook, Brehm posited the following about George Floyd's killing:
"I think there is at the very least the 'possibility' that this was a filmed public execution of a black man, by a white cop, with the purpose of creating racial tensions and driving a wedge in the growing group of anti-deep state sentiment from common people that have already been psychologically traumatized by COVID-19 fears."
A screen grab of the post was obtained by Gilbert Garcia of the San Antonio Express-News. 
"These comments are disgusting and have no place in the Republican Party or in public discourse," said John Wittman, the governor's communications director in a story reported by the Austin American-Statesman. "Cynthia Brehm should immediately resign her position as chair of the Bexar County Republican Party."
Cornyn's campaign and Texas GOP Chair James Dickey followed with statements of their own in opposition to Brehm.
"Sen. Cornyn shares Gov. Abbott's belief that Cynthia Brehm should resign," said his re-election campaign spokeswoman, Krista Piferrer.
"Cynthia Brehm's statement regarding the tragic injustice of the death of George Floyd has no place in the Republican Party of Texas. We can not abide by her caustic remarks," Dickey wrote in a statement on the party's website. "They are out of alignment with our core beliefs and our platform. I have personally reached out to Cynthia Brehm and called on her to resign her post as Chair of the Republican Party of Bexar County immediately."
On May 22, Brehm sparked controversy when she said the pandemic was the work of Democrats trying to hurt President Donald Trump.
"Why is this happening today? And I'll tell you why: all of this has been promulgated by the Democrats to undo all the good President Trump has done for our country — and they are worried. So, take off your masks, exercise your constitutional rights. Stand up, speak up and vote Republican."
Absolutely bizarre. The Bexar County GOP chair concludes this rally by stating that the coronavirus is a hoax perpetuated by Democrats, tells people to take off their masks, and then everyone hugs each other. pic.twitter.com/1XOFeswMiO

— Timothy Burke (@bubbaprog) May 22, 2020
Republicans did not react following Brehm's earlier statements.
"When Brehm spewed crazy theories about the COVID crisis, Republican leadership's silence was deafening. It's no wonder why she felt emboldened to spread hate and lies once again," stated Democratic Party of Texas spokesperson Abhi Rahman.
The conspiracy theory Brehm was attempting to spread in her Facebook post has been found to be untrue by Politifact.