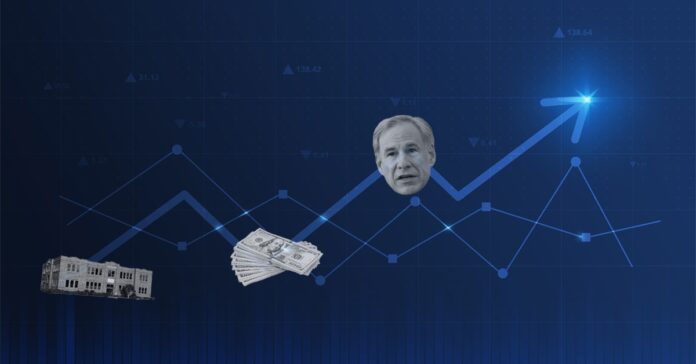 As the state Legislature pours through the endless list of new bills for this session, perhaps none are more immediately important than those regarding how best to adequately fund Texas public education for the next school year and beyond.
Challenges to public education in the state continue to be teacher attrition, and difficulty recruiting new teachers due to low salaries, and a voucher program could exacerbate these issues, as more teachers would be needed in the private school system in the state.
Among the many budgetary concerns for school districts in the state is how to persuade lawmakers to retool public school funding to combat a plethora of budget issues — from funding incentives to keep teachers in the system, how to adjust for inflation, and a recently proposed shift from the current daily attendance model to an enrollment model.
So when district administrators are putting together school year budgets, it has become a sort of "mission impossible" since the Covid pandemic wreaked havoc on the state, national and global economy.
"In a time where cost pressures on not only what's taking place in schools…inflation, increases in fuel and energy costs, along with supplies and paper — since 2019 we have been locked into this funding mechanism where schools aren't able to increase their revenues to keep up — we are stuck," said Bob Popinski, the Senior Director of Policy at Raise Your Hand Texas, an expert on the Texas school finance system in an extensive interview with RA News this week.
Popinski has provided in-depth bill and policy analysis for the past 10 legislative sessions. and has been with Raise Your Hand Texas, a non-partisan nonprofit organization since since 2018. The organization is dedicated to supporting public policy solutions that support investment in the state's 5.4 million public school students. 
Popinski explained that "Texas is in the bottom tenth in the country in per-pupil spending, and we are about $4,000 behind the national average, and we have a funding system that says the only way we can get additional revenue for your schools is either get more kids through enrollment or attendance, or increase your tax rates, so those are the only two ways you can actually get more funding."
According to USAfacts.org, nine states spent less than $10,000 per pupil as of 2019, and Texas was one of them — spending only $9,790 per child — compared to New York school's nation-leading rate of $25,358 per child.
"The basic allotment is the building block for per-student funding, and it's set at $6,160 per student. There are add-ons to that based on student characteristics if you are bilingual or have special needs or free or reduced-price lunch…that can add to that basic allotment. So on average when you throw all that together per pupil funding in Texas is $10,000," Popinski continued but noted that there is other funding through federal allotment and facilities funds.
"But as far as operations are concerned, it's around that $10,000 per student, but that's different in every district based on the student characteristics," Popinski continued, adding that the largest portion of district expenditures is for salaries — and if districts want to offer competitive salaries for teachers, they have to offer some sort of increase, so many of them offer retention bonuses.
And Just Fund it TX, a bipartisan nonprofit, states on its website that Texas ranks 49th (out of 50 states & DC) in per-student funding despite an unprecedented budget surplus, and thus advocates for increasing the basic allotment for public school funding, adopting an automatic inflationary adjustment, and continuing to work toward the national average in per-student spending.
Automatic Inflation Adjustment is Paramount
One way to help stabilize the public school system would be to add an automatic adjustment to keep up with economic conditions. But according to Reform Austin analysis, such mechanisms are only used in 11 states — Arizona, Colorado, Kansas, Montana, New Hampshire, New York, Pennsylvania, Rhode Island, Utah, Vermont, and Virginia — many of which have much smaller state economies to fund such efforts.
"There's just a handful of states out there that have automatic inflation adjustment…and that's one of the requests that we're doing is not only increase the basic allotment to keep up with inflation since 2019 but actually put an automatic inflation adjustment — so on an annual basis it keeps up with inflation — and we would love to have that as policy, so districts could plan their budgets better, as most of them are planning their budgets in June and July."
"Not having to wait on the Legislature to come back every two years to increase funding for them would be not only great for budgeting — but they could actually pay their teachers more, invest in more programs, and keep up with the demands of the 5.4 million kids," Popinski said.
"And Texas has always been in the bottom ten when it comes to per-pupil spending so it's going to take a lot to get us out of there and it's a constant drumbeat to invest more in our kids because money does matter in public education."
Rural Districts In Jeopardy From Proposed Vouchers
Gov. Greg Abbott named "school choice" a top priority for this legislative session, claiming he believes the majority of Republican voters want to root out "woke agendas" in the classroom and support the use of tax dollars to educate their children outside of the public education system.
Abbott is proposing a $15 billion property tax relief effort, as well as voucher or school choice options, including virtual learning options.
But Popinski counters the governor's argument, explaining that in rural districts, losing even small numbers of students can equal the amount of a teacher's annual salary. "We can't take funds away from our public schools just because of a voucher program in our state…it would have a tremendous impact on almost a thousand school districts…because in some small rural campuses, if you lose four or five kids to vouchers, that's a teacher's salary, so what are those schools going to do?"
Popinski added that an increase in the basic allotment could become a "cure-all" not only to help fight ongoing inflationary pressures by giving more money to school districts, adding that according to state budget laws, a certain percentage must also be used on teacher pay.
"And on the teacher pay front, compared to the rest of the country, we're about $7,500 below the national average," he noted.
"They still need a teacher in that classroom, but now they don't have the funding and so the effects of a voucher on our state whether it's just bracketed for urban or suburban school districts doesn't matter, because we're living in a world now where a virtual voucher could be a thing — and someone could set up shop in Houston and start getting kids from West Texas into their virtual voucher program and the impact that would have on that entire community would be pretty drastic."
"But now they're getting to the point where if we really want to stay competitive with not only the school districts around them but with non-public education entities which their teachers are considering," he said, which is a major concern as the state GOP mounts an offensive in several pro-voucher bills.
"So we need to do something about it," Popinski stated.
Despite the obvious need to shore up the public system to ensure the economic and social health of the state's future, Abbott and the GOP still push vouchers, effectively an effort to "defund the schools" in the public education system.
"Among Republican rural voters, about 80% support this," Abbott said, "and I think that Republican officeholders will see that more and more, and I think there may be a change in the perception of what their voters expect of them in Austin, Texas."
Public Education Funding Issues Perplex Texans, Outside Observers
According to a Texas Almanac report, "Many residents believe that despite the overall wealth of the state, inadequate attention and finances are directed toward the public education system." The website report also states that funding problems for Texas public schools are a result of its tax system, including a lack of income taxes and a combined state-and-local tax rate that have led to relatively low teacher salaries, poor standardized test performances, and the reduction in enrollment from public schools in favor of charter schools or other alternatives.
According to the Texas School Coalition, schools must be able to continue to invest in their educators — and like the general public, those educators are facing higher costs for food and housing — and while some educators who own their homes will benefit personally from property-tax relief, inflation drives up costs for school districts and leave fewer resources to invest in educators.
The organization's website states that "it is critical that schools can attract and retain a highly qualified teaching workforce."
According to a report in Education Week, Texas earns a C in its "Chance-for-Success" category and ranks 42nd — whereas the average state earns a B-minus, and in "School Finance," Texas receives a D-plus and ranks 41st. And in its K-12 Achievement Index, Texas finishes 33rd with a grade of C-minus — while the average state earns a grade of C in both School Finance and K-12 Achievement.
Funds Are Abundant, But Where Will They Go?
According to state comptroller Glen Hegar's statements at the beginning of the new legislative session, Texas has an estimated $33 billion balance, and possibly additional funding of tens of billions more, as well as $27 billion in the "rainy day fund."
"So there is a substantial amount of revenue available to fund and invest in not only public schools but other state needs, such as health and human services," Popinski continued but said there are spending limits in the state's budget laws as well.
He said that while the drive to invest in public schools is taking place, so is the voucher/school choice/savings account initiated by the state's GOP lawmakers, from the governor on down through the state Legislature.
"It's pay as you go, so you can only use what you take in…but then we have a constitutional spending limit and state spending limit, and one of those limits says you can't outgrow the last budget by more than 12.5 percent," and Popinski explained that number is based on the rate of growth and income over the past few years.
"So what the Senate and House did in their proposed initial budgets…in the education portion of the bill they said…our priority is property tax relief…$15 billion in relief," he added, saying that in the next part of the bill lawmakers plan to invest money in public education, but fail to spell out a specific amount on either side of the Legislature.
And under the aforementioned spending limits the remaining amount is only $4 billion for the rest of the state's functions. "So right now, when you want to increase the basic allotment of $6,160 to keep up with inflation…that would take about $1000 dollars more," he continued.
"And the key to that is for every $100 increase in the basic allotment, it costs about $1.4 billion…so when you only have $4 billion dollars remaining and you need a $1,000 increase in the basic allotment the math is hard to get to that point…without doing one of two things — you can't exceed the spending limit — but you can take a vote to exceed it, but the will just has to be there to do it," Popinski concluded that "with just 96 days left in the session, it's really about to heat up."
Raise Your Hand Texas, Legacy of Advocacy
According to their website, the group recognized that "Texas public education, an essential investment offered to all Texas families and their children, was under attack by those who sought to dismantle this constitutionally guaranteed public good."
Propinski said that the organization is very passionate and proactive in its advocacy and uses multiple programs to help the public school system in Texas.
"We've spent 17 years trying to advocate at the capital…as well as other parts of the state…sends about a hundred school principals to the Harvard Leadership Institute every year, and provide a "Charles Butt Aspiring Teacher Scholarship" for eight thousand per year for the entire life of a student going through a college educator prep program," he said.
The various programs offered by the organization are managed by their sister organization, the Charles Butt Foundation, and they help serve as the basis for their policy recommendations regarding investment in all levels of education in the state.