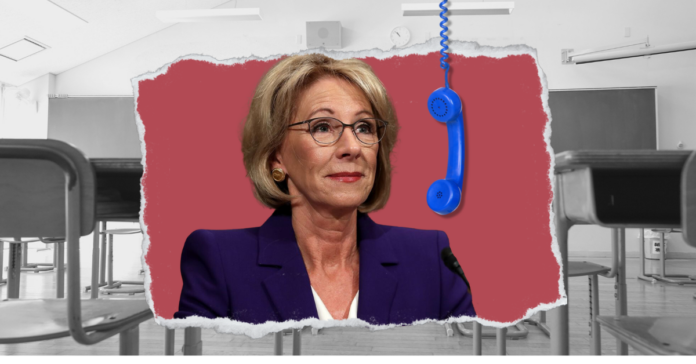 Former President Donald Trump's controversial education secretary, Betsy DeVos, is wading into the Texas legislature – personally calling legislators and pressuring them to support a proposed voucher program which would underfund Texas public education.

During her time as Secretary of Education in the Trump administration, DeVos gained notoriety for a series of controversial positions and policies. DeVos supported the defunding of public education, undercut protections for victims of sexual assault, and ignored demands to make schools safer in the aftermath of dramatic mass shootings.

In March 2017, DeVos supported a Trump budget proposal to slash Department of Education funding by 13.5%, impacting essential education programs, and prioritizing a corporate-driven privatization agenda.

In November 2017, she rescinded sexual assault guidelines, weakening protections against harassment and assault provided by Title IX, and later in 2018,  she introduced regulations requiring the cross-examination of campus sexual assault victims, sparking concerns that this move could deter survivors from reporting assaults and reduce universities' accountability.

In the aftermath of the Parkland, FL mass shooting that left 17 dead and 17 injured in 2018, a School Safety Commission was formed and DeVos was named chair. The commission, instead of addressing gun laws, dismantled civil rights protections for minority students.

Reform Austin has learned DeVos is now personally calling legislators and urging them to support the new "Educational Freedom" one-house bill recently passed in the State Senate.  SB1, would provide parents with $8,000 to send their children to private schools, but does not include funding for public schools.
The intense lobbying effort is a part of the enormous pressure the Governor is exerting on the House to secure a deal on vouchers, even though the House has a strong history of opposition to voucher programs, through the unified stance of Democrats and moderate and rural Republicans. Texas House Republicans have repeatedly refused to even consider a House voucher bill until school funding is added to the special session agenda.
The intra-party fight in Austin is starting to resemble the dysfunction of US House Republicans, who have now held multiple failed votes to elect a Speaker. In the most recent set of votes, pressure tactics have backfired – with an increasing number of Republicans refusing to back controversial Representative Jim Jordan (R-OH) in each successive vote.

In a state where the money follows the child, students leaving public schools for private and charter schools would inevitably affect the already tight school budgets across Texas, especially in rural districts, where public schools are often the largest local employer, and the lifeline of their communities.

While losing funding is the main concern when it comes to vouchers, accountability is also a big concern for legislators when it comes to the schools who will receive state funding. Traditional public schools are held responsible for addressing student achievement, ensuring school safety, and adhering to specific curriculum standards set by the state. In contrast, private schools do not face the same level of accountability to state standards.

The intersection of school funding and voucher policies remains a critical issue for legislators and school districts across the state, and superintendents are concerned about what any voucher plan will mean for their districts.
"A further decrease in funding related to the proposed voucher system causing a decrease in enrollment without an increase in the basic allotment will cause adjustments to be made in personnel, capital infrastructure plans, and student programs," said Pearland ISD Superintendent Larry Berger in a recent interview.

Whether the Texas House maintains its tradition of opposing vouchers remains the big question in Austin, and their decision will have big impacts on the children and communities across Texas in the years to come.