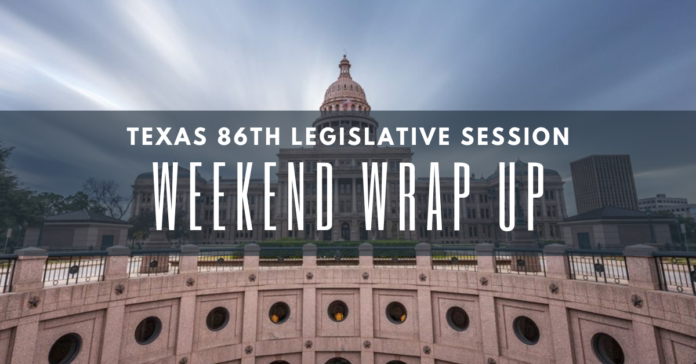 The Texas Legislature quietly ended their regular session Monday in what's colloquially known among legislators as Sine Die.

Here are the four big stories you may have missed over Memorial Day weekend:

$251 Billion Budget Passed

The only constitutionally required bill that needs to pass every legislative session in Texas is the biennial budget. In years where it did not pass, lawmakers were forced into special sessions to pass it out. Nothing exciting happened this year as the $250.7 billion budget, negotiated by a conference committee of members of the House and Senate, passed both chambers nearly unanimously Sunday night. The only lone no vote was Rep. Jonathan Stickland (R-Bedford).

Funding for public schools and property tax relief were chief among the expenditures for the next biennium. Reform Austin will follow up with our reporting on what were the priorities of this Legislature. See the Texas Tribune's report for some more information.

Nearly $12 Billion in New School Funding and Property Tax Relief

In a session where school finance reform was listed the top priority for the Governor, Lt. Gov. and House Speaker, legislation seeking to overhaul the outdated system with $11.6 billion in new funding for schools and property tax relief, HB 3, passed unanimously. Formula changes, increased per-pupil funding, teacher and school employee pay raises, and full-day pre-K make up $6.5 billion of HB 3 whereas $5.1 billion go to reducing school property taxes. Those rate reductions in taxpayers' school property tax bill will go down at an estimated average of 8 cents in 2020 and 13 cents in 2021. The 2.5 percent property tax growth cap goes into effect in 2021.

The text of the bill and the legislative budget board's analysis of the school district-by-district funding changes was released late Friday. Reform Austin will follow up with our reporting on the details. Here's the Tribune's report on it.

Property Taxes Growth Capped at 3.5 Percent

The Property Tax Reform and Transparency Act, SB 2, passed the House 88-50 and the Senate 21-9 late Saturday with some Democrats in both chambers breaking off from their Caucus to vote for the bill.

The measure, among other things like appraisal reform, caps property tax revenue growth of cities and counties at 3.5 percent. It should be noted that no property tax relief is brought about by this bill. It simply slows the growth of property tax rates. Appraisal growth will not be affected by this bill.

Reform Austin will follow up with our reporting on the details of the bill. Here's the Tribune's report on it.

Secretary of State David Whitley Resigns over Voter Purge

Secretary of State David Whitley tendered his resignation letter to Governor Abbott on Monday after failing to gain Senate approval all session. To be approved, Whitley needed the support of two Senate Democrats in addition to the 19 Republicans. However, the Democratic Caucus stood firm against his nomination.

After replacing former Secretary of State Rolando Pablos last December, Whitley is most known for a failed attempt to review the voter rolls for non-citizens. Instead, what transpired was over a thousand naturalized citizens of the 98,000 flagged voters received notices that they might be kicked off the voter rolls if they did not follow up with their local county elections office.

Several lawsuits, settlements and an apology later, Whitley resigns in seeming disgrace. For more details, see the Tribune's report.