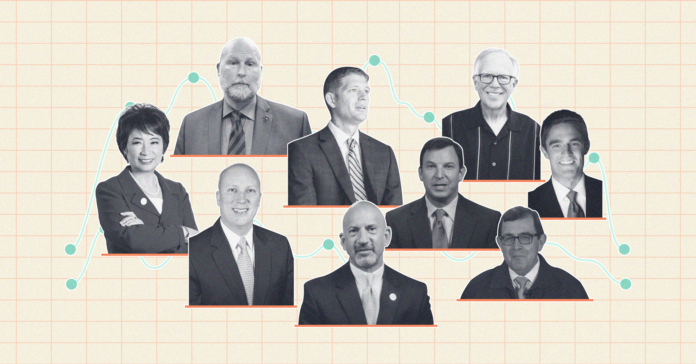 The Texas Democratic Party is calling on nine Republican candidates to return campaign donations they have received from Empower Texans, the political action committee at the center of controversy over staff remarks mocking Gov. Greg Abbott for being in a wheelchair.
In a news release in which they characterize Empower Texans as a "right-wing dark money group," the Democrats listed the following Republican candidates as having received donations from the organization, how much they received and when they received it.
State Rep. Angie Chen Button (R-Richardson) – $10,000 in 2008
State Rep. Matt Shaheen (R-Plano) – $47,180 in 2014 and $50,000 in 2018
State Rep. Jeff Leach (R-Allen) – $21,242 from 2012 to 2018
State Rep. Craig Goldman(R-Ft. Worth) – $5,010 from 2012 to 2014
State Rep. Matt Krause (R-Ft. Worth) – $42,600 from 2012 to 2018
State Rep. Tony Tinderholdt (R-Arlington) – $161,600 from 2014 to 2018
State Rep. Todd Hunter (R-Corpus Christi) – $10,120 in 2008
State Sen. Pete Flores (R-Pleasanton) – $25,000 in 2018
Congressman Chip Roy (R-Austin) – $605 in 2018 from Empower's CEO
"All of these Republicans should give that money back or they are complicit in Empower Texans' behavior," the Texas Democratic Party stated in its news release.
In a podcast full of F-bombs and other expletives, Empower Texans General Counsel Tony MacDonald and staffer Cary Chesire were caught mocking Gov. Greg Abbott for his disability. The duo were suspended and Empower's CEO has issued a statement of apology to Abbott. 
The list provided by the Democrats was based on information available from followthemoney.org, which tracks political contributions. Of those listed, Krause and Leach have issued statements on Twitter condemning the comments made by Cheshire and MacDonald. Shaheen did not respond himself, but instead retweeted a statement from former Gov. Rick Perry.   
Those on the list are not the only Republican elected officials who have accepted money from Empower Texans, nor are they the only candidates to be endorsed by the group at one time or another.
For instance, Lt. Gov. Dan Patrick has received more than $857,000 from the group and Jon Francis is endorsed by Empower Texans in the July Republican primary runoff against Glenn Rogers for Texas House District 60.
Patrick, Texas Attorney General Ken Paxton, Texas House Speaker Dennis Bonnen, Francis and numerous other Republicans have condemned the comments and attempted to distance themselves from Empower Texans.
On Monday, when asked about the comments made about him, Abbott said, "The public should judge that organization and the positions it takes through the lens of the people who act that way."
In at least one race on the July primary runoff ballot, Abbott's endorsement has gone to the candidate who is not supported by Empower Texans. Mike Lang, a state representative who decided against running for reelection in favor of trying for a seat as a Hood County commissioner, ran with the governor's support in the past, but this time Abbott's nod went to Lang's opponent Jack Wilson.
Lang joined in the condemnation of the comments about Abbott, but he also lashed out at the governor for his endorsement of Wilson.