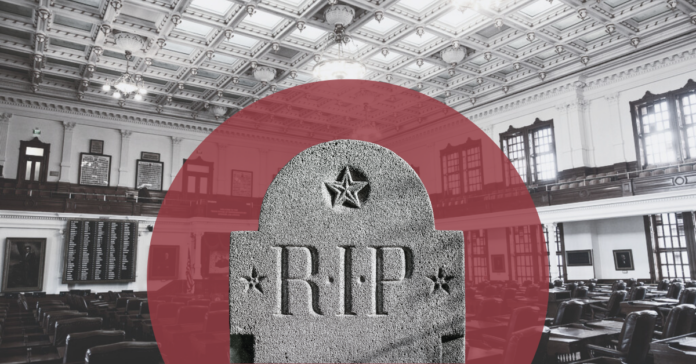 In a recent turn of events, Senate Bill 9, the Senate's education priority bill, faced a setback on the Texas House floor, leading to its postponement and effectively signaling its demise for this legislative session.

Rep. Harold Dutton postponed SB9, effectively killing it. The bill tackled teacher shortage such as residency programs, increases to TIA and grants to rehire retired teachers. 

Last night, the House had added 10 priority amendments to SB9 during its second reading. A lot of the provisions added to SB9 are in HB100 which the Senate passed, and will now head to conference committee.

The House's move was seen as a response to the Senate's inclusion of a last-minute voucher amendment in their school finance bill, House Bill 100 – which passed the Senate with 18 ayes and 13 nays.

Tensions between the House and Senate were palpable during the proceedings, with representatives expressing their dissatisfaction and frustration towards the Senate's actions. Rep. James Talarico criticized the Senate for linking teacher pay raises to the passage of their voucher program, calling it "unconscionable" during a time when the state is facing a severe teacher shortage.
Rep. Harold Dutton, who sponsored the bill, expressed disappointment that his bill focused on teacher retention and recruitment had not made progress in the Senate. He voiced his concerns about the lack of mutual respect and understanding between the chambers.

"I don't believe the Senate respects us," he said.
Notably, HB 100 included Governor Greg Abbott's top priority item: a voucher-like program providing taxpayer funds for parents who choose alternatives to the public school system. Despite efforts by Sen. Nathan Johnson to remove the provision, citing potential detrimental effects, the amendment failed to pass.
With the postponement of Senate Bill 9 on the House floor, the bill is effectively terminated for this legislative session. The differing approaches and priorities of the House and Senate regarding education policy have resulted in a significant impasse, leaving unresolved issues related to teacher pay raises, vouchers, and addressing the teacher shortage in the state.