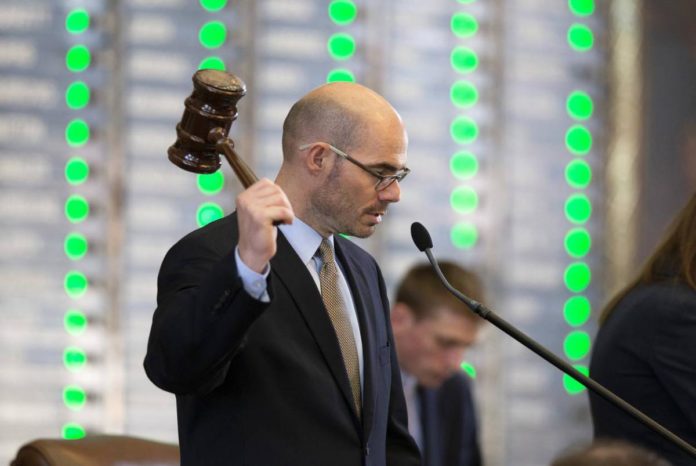 (Pictured: Dennis Bonnen, Credit: Bob Daemmrich, Texas Tribune)
As Speaker of the Texas House, Dennis Bonnen (R – Angleton) has the responsibility of making committee assignments for its 150 members.
Yesterday, in the middle of the third week of session, Speaker Bonnen announced the standing committee assignments for the 86th Texas Legislature during the body's regularly scheduled meeting. The assignments were made weeks ahead of last session, when committees were announced in early February.

In the first week of session, both chambers of the Texas Legislature decided on rules, which include the standing committees for the legislative session. The House agreed on a few changes from the previous session on committees. They include abolishing the following committees:
Economic and Small Business Development, by combining it with International Trade & Intergovernmental Affairs, which is now called International Relations & Economic Development;
Government Transparency & Operation, by combining it with General Investigating and Ethics which is now just called General Investigating;
Investments & Financial Services, by combining it with Pensions Committee, which is now called Pensions, Investments & Financial Services; and
Special Purpose Districts.
Most committees got an increase in their membership. A few of them were reduced: Energy Resources has 11 members down from 13, General Investigating has 5 members down from 7 and two procedural committees – Calendars has 11 down from 15 and Local and Consent Calendars has 11 members down from 13.
Finally, the State Affairs committee now governs the Texas Ethics Commission.
With 28 freshman legislators and 12 less Republicans than last session, House committee membership looks quite different. A survey of the committee leadership also tells a story of who Speaker Bonnen considers allies.
Committee chairs are powerful because they determine which bills get hearings, the first step in the process of any bill to become law. Here is the complete list of the 34 House committee chairs:
| | |
| --- | --- |
| Springer, Drew (R-Muenster) | Agriculture & Livestock |
| Zerwas, John (R-Richmond) | Appropriations |
| Martinez Fischer, Trey (D-San Antonio) | Business and Industry |
| Price, Four (R-Amarillo) | Calendars |
| White, James (R-Hillister) | Corrections |
| Coleman, Garnet (D-Houston) | County Affairs |
| Collier, Nicole (D-Fort Worth) | Criminal Jurisprudence |
| Cyrier, John (R-Lockhart) | Culture, Recreation & Tourism |
| Flynn, Dan (R-Canton) | Defense & Veterans' Affairs |
| Klick, Stephanie (R-Fort Worth) | Elections |
| Paddie, Chris (R-Marshall) | Energy Resources |
| Lozano, J. M. (R-Kingsville) | Environmental Regulation |
| Meyer, Morgan (R-Dallas) | General Investigating |
| Turner, Chris of Tarrant (D-Grand Prairie) | Higher Education |
| Nevàrez, Poncho (D-Eagle Pass) | Homeland Security & Public Safety |
| Geren, Charlie (R-Fort Worth) | House Administration |
| Frank, James (R-Wichita Falls) | Human Services |
| Lucio, Eddie III (D-Brownsville) | Insurance |
| Anchia, Rafael (R-Dallas) | International Relations & Economic Development |
| Leach, Jeff (R-Plano) | Judiciary & Civil Jurisprudence |
| Dutton, Harold (D-Houston) | Juvenile Justice & Family Issues |
| Craddick, Tom (R-Midland) | Land & Resource Management |
| King, Tracy of Uvalde (D-Batesville) | Licensing & Administrative Procedures |
| Morrison, Geanie W. (R-Victoria) | Local & Consent Calendars |
| Larson, Lyle (R-San Antonio) | Natural Resources |
| Murphy, Jim (R-Houston) | Pensions, Investments, & Financial Services |
| Huberty, Dan (R-Houston) | Public Education |
| Thompson, Senfronia of Harris (D-Houston) | Public Health |
| King, Phil of Parker (R-Weatherford) | Redistricting |
| Guillen, Ryan (D-Rio Grande City) | Resolutions Calendar |
| Phelan, Dade (R-Beaumont) | State Affairs |
| Canales, Terry (D-Edinburg) | Transportation |
| Button, Angie Chen (R-Richardson) | Urban Affairs |
| Burrows, Dustin (R-Lubbock) | Ways & Means |
12 Democrats are chairs of the 34 House Committees compared to the Senate where only 2 Democrats are chairs of the 16 Senate committees (John Whitmire on Criminal Justice & Eddie Lucio Jr. on Intergovernmental Relations).
In the previous session under Speaker Straus, 13 Democrats were Committee chairs. This shows Speaker Bonnen is continuing the bipartisanship approach to House leadership. Supporting that trend is Bonnen's appointment of Rep. Joe Moody (D – El Paso) as speaker pro tempore, the number two job of the House.
Important committee chairs that determine some of the major issues for Texans include Rep. John Zerwas (R – Richmond) who retains his Appropriations chairmanship, Rep. Senfronia Thompson (D – Houston) becoming chairwoman of Public Health, James Frank (R-Wichita Falls) being promoted to Chair of Human Services, and Rep. Dan Huberty (R – Houston) retaining his Public Education chairmanship.
Freshmen legislators were also appointed to these important committees as members:
Public Education Committee – Keith Bell (R – Terrel), Steve Allison (R – San Antonio), and James Talarico (D – Round Rock)
Appropriations Committee – Brad Buckley (R – Killeen), Carl Sherman (D – DeSoto), John Turner (D – Dallas), Reggie Smith (R – Sherman), and Steve Toth (R – The Woodlands)
Public Health Committee – Steve Allison (R – San Antonio)
Human Services Committee – Terry Meza (D – Irving)
The powerful Ways & Means committee that Speaker Bonnen chaired less session is now chaired by Rep. Dustin Burrows (R – Lubbock). Any property tax reform bill would have to go through this committee before it gets to the House floor.
The rest of the committee assignments can be found here. Reform Austin has made it easier for constituents to find the committee memberships of their lawmakers.