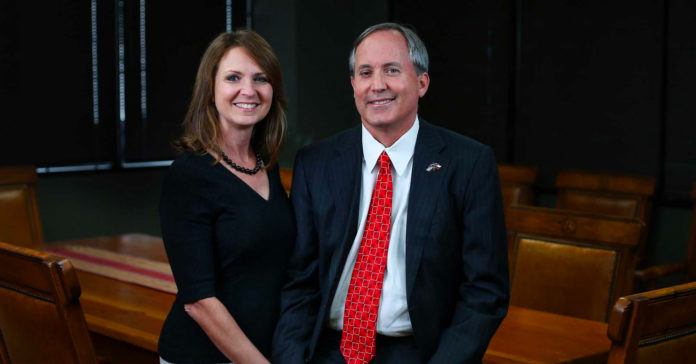 The possible criminal activities of Texas Attorney General Ken Paxton get weirder the more is uncovered about them. Now, it's possible that his wife, State Sen. Angela Paxton (R-Allen) was involved in scandal.
Ken Paxton has been under indictment for corruption since 2015, though the attorney general has managed to drag the issue out in court of the question of pay for the special prosecutors and was even re-elected under the shadow of the case. Following whistleblowing by top aides in his staff, Ken Paxton fell under investigation by the FBI for bribery. This announcement of potential federal charges is what led to speculation that Ken Paxton's doomed lawsuit to overturn the votes in other states was a ploy for a presidential pardon by currying favor with former President Donald Trump.
The lawsuit was rejected by the Supreme Court and Paxton did not receive a pardon, so the investigation goes on.
In a new court filing by four of the whistleblowers, the complaint against Ken Paxton has been amended to contain a claim that he made a deal with Austin real estate developer Nate Paul to have his house remodeled. The complaint also says Ken Paxton asked Paul to set up a job for a woman that the attorney general was having an affair with. In return, Ken Paxton was supposed to intervene on Paul's behalf in a lawsuit.
"Some of Paxton's actions directing the [Office of the Attorney General] to benefit Paul were criminal without regard to motive," the amended petition reads. "Others were so egregious and so contrary to appropriate use of his office, that they could only have been prompted by illicit motives such as a desire to repay debts, pay hush money, or reciprocate favors extended by Paul."
Paul is a longtime donor to Texas Republicans and has had a friendly relationship with Ken Paxton for years.
The accusation of a woman involved in the scandal is a new wrinkle. Last year, Paul said in a deposition that he had employed a woman at Ken Paxton's request. The Texas Tribune has reported that Ken Paxton told top aides that he was having an affair with this woman, apparently a member of Angela Paxton's staff. Angela Paxton's office has not responded to this story in the press.
The woman is now employed at Paul's construction business with apparently no relevant experience in that field.
As the case of Ken Paxton's possible corruption gets dirtier, it's worth considering what Angela Paxton knows about the subject? She must surely be aware of the relationship between her husband and Paul, as well as who was remodeling her own home. If the woman named in the whistleblower complaint was indeed a member of her staff, then she would presumably know that she had moved onto to her husband's friend's business.
With Paxton staring down the barrel of a federal investigation, and with no friendly ally in the White House to possibly smooth the way for him, it's reasonable to think that Angela Paxton will be deposed on the matter. As a sitting state senator, this makes her more than just the spouse of a powerful politician. A corruption charge against her as well would shake the state legislature.