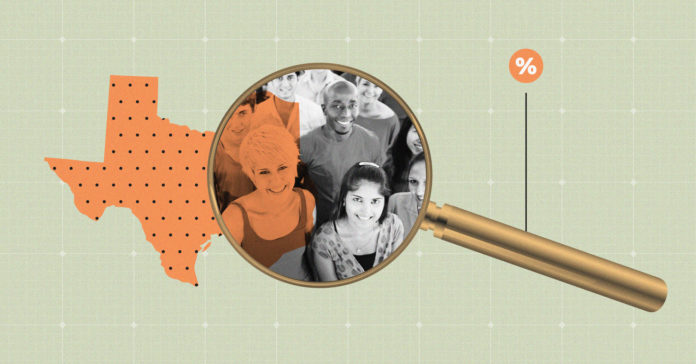 Neighbors were pleading with neighbors in the final hours of the 2020 census, which was brought to an abrupt end last Thursday, when the U.S. Supreme Court sided with President Donald Trump and refused to allow counting to continue through Oct. 31.
"It is a moment of desperation … We just want your household to be counted," said Congresswoman Sheila Jackson Lee (D-Houston).
As of the end of the count, 62 percent of Texans had responded, which is lower than the national self-response rate of 67% and lower than Texas' 64.4% response rate of 2010.
The Numbers at a Glance
Experts are worried about data.
"The earlier finish date concerns us in that anything short of Oct. 31, which the bureau stated they needed to conduct an accurate count, has the potential to produce lower quality data," wrote Lila Valencia, a senior demographer in the Texas Demographic Center on Monday.
Although we won't know if data quality was compromised by a shorter timeline until more evaluation metrics are made available by the Census Bureau, Valencia said that in the meantime, Census Bureau Director Dr. Steven Dillingham stated in his director's blog that self-response is a good initial metric to evaluate the quality of the data from the 2020 census.
We do know that the response rates varied widely across the state, ranging from a high of 75.8% in Fort Bend County to 18.6% in Edwards County.
"Although we cannot be sure if Texas would have met its 2010 rate if the deadline to respond was Oct. 31, we know community organizations on the ground and Census Bureau enumerators could have used this time to reach out to the hardest to count areas of the state," Valencia explained.
"This was an incredibly challenging census from the public health challenges to the pandemic-induced recession to natural disasters along the gulf coast to the uncertainty on the ending date," she added.
The Census Bureau self-response map shows a lot of Texas achieved response rates of 50% or higher. They include Harris County at 62.9%, Bexar County and Travis County with 67.3%, Tarrant County with 68.8%, Lubbock with 63.2%, and Henderson County with 54.3%.
Of concern, though, are the areas like Kent County at 33%, Tyler County at 39.7% and Kennedy, McMullen and Deval counties, which are all below 30%.
According to the map, many south and west Texas residents weren't counted.
Why Do We Need Everyone Counted?
Getting an accurate head count is important because the census is used to determine how much federal money Texas will receive over the next decade and how much representation we have in Congress.
It is estimated that a census undercount could mean not gaining three additional Congressional seats and $800 billion in funding for Texas. That would impact spending for everything from highways and public transportation to Medicaid and Medicare, food assistance programs, the Children's Health Insurance Program, school grants, crime victims assistance, treatment programs for substance abuse prevention and more.
"As evaluation data become available from the Census Bureau, the Texas Demographic Center will review the data to understand the potential impacts of these challenges on the count in Texas," Valencia wrote.