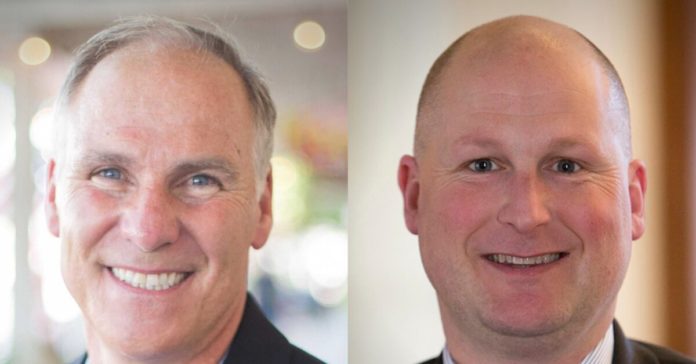 Lone Star Agenda can claim two new recruits. For state Reps. Kyle Biedermann (R-Fredericksburg) and Tony Tinderholt (R-Arlington), the talk of Texas turning "purple" falls on deaf ears.

Instead of taking a more moderate approach following Texas' "kumbaya session," Bidermann and Tinderholt have doubled down in their conservative efforts, announcing their support for the Lone Star Agenda.

Don Dyer, owner of a professional janitorial services company in Austin, launched the coalition in July. His name is undoubtedly familiar among the state's more conservative Republicans. Since 2013, Dyer has donated $120,000 to Attorney General Ken Paxton, $56,000 to Lieutenant Governor Dan Patrick, and $80,000 to the Republican Party of Texas.

On the Lone Star Agenda Facebook page, the coalition calls for Texas Republicans to unite and "keep Texas Red" by providing elected officials with a "legislative package that will inspire, excite and ignite the [Republican] base." In a letter to Gov. Abbott last month, the organization pushed for a special session to enact their agenda.

Lone Star Agenda's legislative initiatives as defined on their website include:

Family Rights and Personal Liberty
Allow families to make mental and physical health decisions for themselves.
Stop wrongful removal of children from families by restoring due process rights for parents.
Stop local ordinances that interfere in private employer-employee relationships.
Increase protections for unborn Texans.
Transparent and Representative Government
Improve election integrity with paper ballot backup audit trails and citizenship verification.
End taxpayer-funded lobbying.
End union dues withholding from public-sector paychecks.
Protect Texas monuments.
Justice and Security
Secure the southern border (interior enforcement to end the "magnet" effect).
Stop human trafficking.
Protect the rights of Texans to bear arms.
The Lone Star Agenda plan for allowing families to make mental and physical health decisions for themselves includes amending "recently passed mental health legislation to provide protections for parental and civil rights." The coalition fails to define which recently passed legislation they wish to see amended. Texas has struggled severely in providing adequate mental health services, especially in public schools. Instead of a plan to address the state's mental health crisis, the Lone Star Agenda wants to repeal some of the positive changes made in the past session.

The phrase "Stop wrongful removal of children from families by restoring due process rights for parents" also raises concerns. The Lone Star Agenda's bullet points under this initiative are "prevent CPS workers from exceeding their legal authority in investigations" and "protect the due process rights of investigated families."

In a state where a crumbling Child Protective Services (CPS) system continues to disappoint, legislators should be looking for and implementing improvements to the system, not perpetuating the issue by limiting CPS capabilities instead of offering a solution.

In addition to Rep. Biedermann and Rep. Tinderholt, support for the Lone Star Agenda includes Empower Texans, Texans for Vaccine Choice, and Texas Home School Coalition.

When Kyle Biedermann announced his support for the coalition, he said, "if a special session is called, I will be filing multiple pieces of legislation on the agenda and sponsoring any other bills filed. If not, I will be filing portions of the agenda in 2021."

However, in this past session, Biedermann did not support initiatives included in the Lone Star Agenda. Biedermann chose not to support efforts to stop human trafficking when he voted against a bill that would enact a treatment program for child sex trafficking victims and create a sex trafficking prevention grant program for municipalities and law enforcement agencies.

Tony Tinderholt's support of the agenda's push for transparent and representative government is particularly interesting, considering his propensity to vote for relaxing the rules on himself. Tinderholt has also raked in thousands of dollars from special interest groups and political action committees. He has also been known to vote for the groups that contributed to his campaign.

Rep. Tinderholt should be especially careful not to alienate any voters in his district. In 2018, Tinderholt defeated Democratic challenger Finnigan Jones by a narrow 8.6 percent margin.

The political future of the state remains to be seen, but if Texas is turning purple, Kyle Biedermann and Tony Tinderholt are turning their heads.