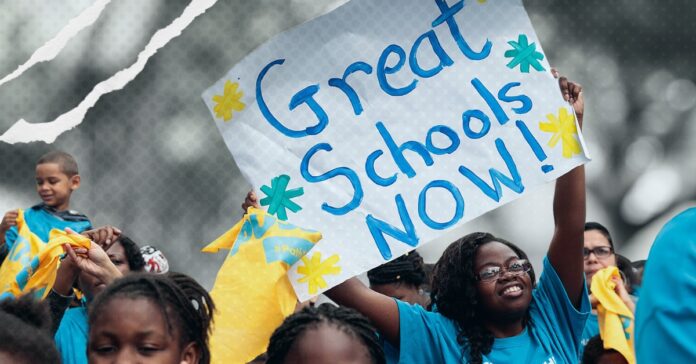 The newly-conservative U.S. House of Representatives introduced a bill this week they're calling a "Parents Bill of Rights" that mirrors pushes in Texas and other red states to oppose certain aspects of public school education.
"Our kids were learning things and being exposed to things that parents were shocked by," said Indiana Rep. Erin Houchin (R-Indiana) at a press conference.
On the surface, the bill is innocuous and tame compared to stronger ideological pushes in Texas. In short, it would make all curriculums public, add transparency to school budgets, and protect children's privacy. However, in context of the larger campaign from far-right conservatives nationwide, experts think it's just the first step toward removing content from schools conservatives are ideologically opposed to.
"It's a Trojan horse to try and do the things they have been doing about banning books and censoring curriculum," says Ailen Arreaza, Executive Director of ParentsTogether, a parent advocacy group with more than 3 million members nationwide. "It's trying to pit parents against teachers. There is no evidence that children are being taught to hate the United States anywhere in the country. What parents want is for kids to be introduced to the true history of our country, to diverse ideas and lessons. Schools should be mirrors and windows, mirrors where they can see themselves and windows where kids can open their eyes to new experiences and new ways of being."
The push for school choice, especially in Texas, has been funded by a handful of oil billionaires who astroturfed grassroots campaigns of harassment at school board meetings. It has resulted in a systematic attack on teachers and materials that address white supremacy's role in history, LGBT content, and the labor movement. Conservative activists insist that they need freedom and taxpayer dollars to send their kids to schools where they can more strictly monitor what they are learning.
However, the movement is inherently factually inaccurate. In Texas, parents have the right to put their children in any school for any reason. Monitoring curriculums and assessing library collections are already things parents are allowed to do.
"Parents already have all these rights," says Arreaza. "What parents want is better individualized education for our kids, more mental health resources, to feel safe. No child has ever died in school from reading a book about a gay pigeon. [This bill] It's about trying to create this divide. It's manufacturing a divide between parents and teachers."
Despite widespread Republican support, Arreaza feels the bill has no real chance of becoming law, even if it does pass the Republican-controlled House. With Democrats in charge of the Senate and White House, the bill is little more than a rallying cry for similar pushes in state governments.
"I don't think it will go very far because it's pretty useless." Says Arreaza.
Meanwhile, Texas Republicans are lately focusing on simply shifting more students to Christian schools on taxpayers' dime through Governor Greg Abbott's voucher program or Education Savings Accounts.