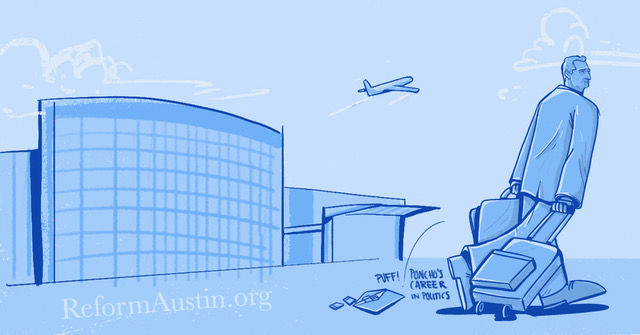 State Rep. Poncho Nevárez (D-Eagle Pass) has made headlines in the last few sessions. In 2015 he was threatened by open-carry advocates, which resulted in 70 members of the Texas House of Representatives wearing stickers and buttons saying "I'm Poncho."
In 2017, Nevárez got into a heated argument with another member of the House which resulted in mutual death threats. And now Nevárez has been arrested for possession of cocaine.
How did a promising legislator with a history of supporting progressive causes wind up getting charged with a felony? Here's how.
Sep. 6 – Rep. Poncho Nevárez arrives at Austin Airport by private plane owned by his law firm holding an envelope. Nevárez exits the airport through a section used by state officials traveling on business.

He drops the envelope outside the airport entrance as he enters a Black SUV owned/driven by his Chief of Staff.

TxDOT officials find an envelope with the letterhead of the Office of Poncho Nevárez, open its contents, find 4 baggies of white powder (later confirmed as cocaine) report it to DPS Aviation Division.

DPS Lieutenant requests the assistance of Texas State Trooper. State Trooper briefs Oscar Cabrera, a peace officer, and DPS Criminal Investigations Division special agent.

Oct. 15 – DPS Special Agents Cabrera and Michael Guerra interview Nevárez's chief of staff, Carlos Edwardo De La Pena. De La Pena denies seeing the envelope, testifying that no official envelopes or documents were kept outside of his office.

Oct. 25 – Search warrant for Poncho Nevárez's DNA sample is signed by Travis County Criminal District Court Judge Brad Urrutia.

Oct. 25 – DPS Special Agent Cabrera files an affidavit with Travis County District Clerk.
Oct. 29 – DPS Special Agent Cabrera signs an affidavit testifying he executed the search warrant that day and obtained 4 DNA samples of Nevárez.

Nov. 6 – Poncho Nevarez announces he will deactivate his FB page.

Nov. 8 – Poncho Nevarez announces he will not seek reelection in 2020.

Nov. 13 – Conservative activist group publishes DPS affidavit on Poncho Nevárez.

Nov. 14 – Texas Tribune confirms affidavit.
Nov. 14 – Travis County Magistrate Judge signs off arrest warrant charging Nevárez with third-degree felony possession of a controlled substance, 1-4 grams. A third-degree felony can be punished with 2- 10 years incarceration and up to $10,000 in fines.
Nov. 14 – Texas lawmakers respond.
Wishing my friend, @poncho_nevarez and his family strength & love to make it thru. I have no doubt you can. Take care of yourself—the people who love you are counting on you to get better.#txlege

— Gina Hinojosa (@GinaForAustin) November 14, 2019
Statement from @TexasHDC Chair @ChrisGTurner on @poncho_nevarez — "I am deeply saddened to learn today's news but I am also encouraged to see that, through his statement today, Poncho is taking responsibility for his actions and intends to seek treatment." #txlege pic.twitter.com/84HrittCtl

— Cassi Pollock (@cassi_pollock) November 14, 2019
While I'm saddened by the circumstances, I'm relieved Poncho is taking responsibility & putting his health & family first. Addiction is insidious & the stigma makes it worse; admitting a problem & getting help is a huge step towards recovery that takes courage. #txlege @samhsagov pic.twitter.com/uGAz1CSyV0

— Joe Moody (@moodyforelpaso) November 14, 2019
Chair @RafaelAnchia on Chairman @poncho_nevarez's statement:

"Addiction is a serious illness and acceptance is the first step to recovery. Today, Chairman Nevárez took full responsibility for his actions and intends to seek treatment towards a better health for himself." #TXlege pic.twitter.com/UygrNLCXju

— MALC (@MALCTx) November 14, 2019
Nov. 14 – Nevárez surrenders to authorities at the Maverick County jail. He's booked and posts bond.