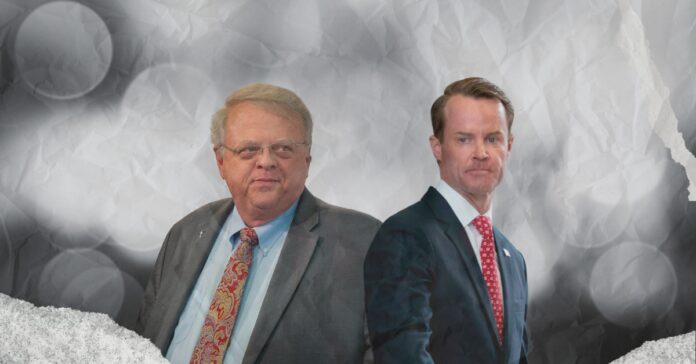 As the first special session of the legislature begins, Texas Republican leadership are viciously fighting for competing property tax reform. As things get nastier, accusations of personal interest are starting to be thrown about.
On the Senate side, Lt. Governor Dan Patrick pointed out that House Speaker Dade Phelan might stand to benefit a great deal from the House's plan. Speaking to the Texas Public Policy Foundation, a right-wing think tank backed by oil and gas billionaires, Patrick criticized Phelan for wanting a cap on rising property appraisals.
"I couldn't figure out why [Phelan] is so hooked on this 8 percent cap," said Patrick, then pointed out that Phelan Investments, a property company, stood to make significant money with a cap. Patrick then added he was not accusing the House Speaker of a crime.
Currently, Phelan is wanting a cap of 8 percent on year to year appraisal increases on commercial properties and a 10 percent on private residences. This would cost the state roughly $12 billion. A cap on increases benefits long-term property holders, who see smaller tax bills over time, but can be devastating for first time property buyers, who can be hit with massive tax bills their first year.
Phelan Investments specializes in commercial properties such as shopping centers, warehouses, industrial properties, and office buildings.
Meanwhile, the architect of the Senate plan, Paul Bettencourt (R-Houston) has also been under scrutiny. The Senate proposal is targeted at increasing the homestead exemption for Texans, offering tax relief on primary residences. Like Phelan, Bettencourt has a personal dog in this fight.
He owns Bettencourt Tax Advisors, a "a proven industry leader in percent reduction of property tax values." Bettencourt's office makes its money protesting property taxes for clients, work that is likely to increase with a major shift in homestead exemptions. A cap on appraisals would also cut into work his firm does when people protest their property taxes being raised.
To be clear, there is no direct evidence that Phelan or Bettencourt are at loggerheads purely over their own personal gain. Republicans have said that property tax reform was a top priority since the regular session started with a $30 billion surplus. However, the two chambers have been intractable on the subject, and the large-scale culture war fights over school vouchers and anti-LGBT legislation have often eclipsed the property tax fight.
Tax experts warn that the House plan could have dire consequences on income inequality in the state. While the caps could promote stability, in states where they have been implemented it drastically reduced first-time property buying. While such a proposal does protect property owners from skyrocketing rates in booming neighborhoods, they don't make it any easier to buy a home in them. On the other hand, Phelan's plan to include businesses in the cap could be a cushion for smaller commercial interests who want to stay in blossoming locations.
The special sessions will likely continue until Governor Greg Abbott is satisfied the matter has been resolved.