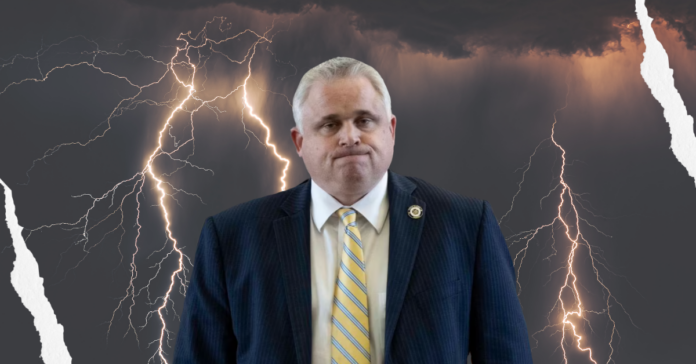 Rep. Bryan Slaton, a "bold and brave Christian-Conservative" Texas lawmaker, has retained a criminal-defense attorney, after a formal complaint was filed against him with the Texas House Committee on General Investigating.

Rumors of legal trouble surrounding Bryan Slaton first emerged when he failed to attend a crucial session at the Capitol last Thursday, when the House debated the budget. Slaton had proposed 27 amendments to the bill, and yet, he was the only absence when the roll was called Thursday morning.

Then on Friday, Rep. Brisco Cain added to the drama, tweeting: "I am absolutely furious at a republican whom I believe to be a sexual predator. I've never been so ticked off at another legislator." Without saying who he is talking about, Cain said "He should resign now."

Cain initially declined to say who he was talking about. Later in the same twitter thread, in response to somebody accusing him of covering for a sexual predator, Cain responded: "Everything has been reported. No one is protecting Representative Slaton."

While Slaton has not commented on the matter, on Monday, Patrick Short, his attorney published a news release:

"We are aware of outrageous claims circulating online by second-tier media that make false claims against Representative Slaton," said Short. "As a result, he has been advised to forward all inquiries in this matter – including any that may relate to a possible complaint – to his legal counsel."

Slaton has yet to justify his absence from the Capitol and Scott Braddock's Quorum Report has pointed out that it's a little suspicious his office has been dark and there was paper taped over his windows – "Hmm."

The chairman of the General Investigating Committee, Rep. Andrew Murr, R-Junction, issued a statement saying the panel does not comment "on any investigations it undertakes, including statements confirming or denying the existence of any ongoing investigation."

Slaton, a former youth and family minister from Royse City, is one of the farthest-right members of the Texas House and is known for his anti-LGBTQ views. Last year, he called for a blanket ban on minors at drag shows, saying it was necessary to protect children from "perverted adults," and this year he filed a longshot bill that would let voters decide whether Texas should secede from the U.S.

According to Austin American-Statesman, an aide in Slaton's office said the representative plans to be at the Capitol when the House convenes at 2 p.m. Monday.